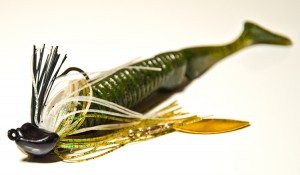 At Bass Parade we tend to talk a lot ABOUT fishing, but for some reason we haven't actually 'talked fishing' that much. Which is a shame, because in addition to being ruggedly handsome [Jason] and smelling like daffodils [Jay], we actually DO know how to fish.
Well… Jay can't catch a bass to save his life, but that's cool because I've got enough skillz for both of us.
Some of my fellow tackle nerds [Pete Robbins—you reading this?] might string me up for this, but I can't keep this cat in the bag any longer. I want to turn you guys on to one of my new favorite baits and techniques I've picked up over the last 18 months: the Shimano Maki Rubber.
WTH is a Maki Rubber? Good question. It's a jig. No, it's a spinnerbait. And a swim jig. It's also a swimbait. It's a spinning, swimming, jiggabait kinda' thing.
If you're a JDM (that's Japanese Domestic Market for you xenophobes) enthusiast you've probably already heard of the Maki Rubber. Whether or not you've gotten your hands on the real thing is a different story. This little dude isn't exactly easy to come by, even for Japanese anglers, but a handful of tackleholics have managed to procure a few stateside. And, like all 'hot' lures, as time goes on they're getting a little easier to find.
The only way I got my hands on them was through my good buddy, Kenichi Iida, Shimano's Reel Products Specialist [a fancy title for someone that gets to fly around the world fishing all the time in the name of 'product development'—I hate this guy]. He hooked me up with a few authentic Makis a little over a year ago—after I'd been experimenting with some I'd made myself—and I've been bustin' bass [and redfish] on 'em ever since.
The Maki Rubber is essentially a swim jig designed to be used with a swimbait trailer. There are similar offerings from other companies—like Zappu's P.D. Chopper and the Deps Hyper Football jig—but what's special about the Maki is that it also has the added appeal of a willowleaf blade on a free-swinging arm that's attached to the head of the bait. Sound complicated? It's not. Just check out this video to see the Maki in action. Looks sweet, huh?
So how do I fish this thing? How don't I fish this thing would be easier to answer. Unlike a true swimbait, the Maki Rubber doesn't have that photo-realistic look that's best suited for ultra-clear water. With the added blade and the pulsating skirt the Maki's got a little extra going on that make it a better choice for throwing in water with some color to it—which, in my opinion, makes it a more versatile offering. The added brush guard on the jighead also means you can swim the Maki in and around wood or sparse grass effectively.
My favorite bait to pair with the Maki Rubber is the Jackall Ammonite Shad [check out this piece on BassFan for a closeup look at the Ammonite Shad rigged with Zappu's P.D. Chopper – Ed.]. I've also had good results with the Keitech Swing Impact Fat and the Reaction Innovations Skinny Dipper.
About the only thing the Maki Rubber isn't designed to do is rest on the bottom. The shape of the head and swinging blade arm just don't lend themselves to a hopping presentation. This thing wants to swim, and I've had best results letting the bait do all the work on a slow-and-steady retrieve. I've also caught fish by reeling it up to cover and killing it in the strike zone so that it flutters downward. Typically, you're fishing this thing with such a large chunk of plastic that you can get a pretty slow sink rate out of it depending on line size and head weight.
I've also experimented with adding some different weights and rattles to the blade arm with mixed results. Our Japanese bassin' brethren would probably kill me if they knew I was so haphazardly modifying a system they spent years perfecting, but I'm a hacker at heart. I have to tinker.
You'll see some variety in the size of bass that commit to the Maki, but without a doubt this thing is designed to coax big fish. Depending on the size of the trailer you choose, the Maki is one of those rare baits that can be a true limit-getter or a kicker magnet. I tend to use it for the latter.
If you're the type of angler that likes to jump on the forefront of a technique, you'd better start scouring the web and try to find some Maki Rubbers. Swim-jigging isn't anything new, but with these specially designed heads coming out of Japan the swimmin' game is going to see a ton of refinements in the coming years as these systems find their way into the pros' hands. After fishing the Maki Rubber for a solid year it's become a tool I won't leave home without. It's too bad I've only got a few left in the box.
Any Paraders out there fished the Maki, P.D. Chopper or similar heads? What trailers are you using? Have you made any refinements? Share your insight in the comments below.