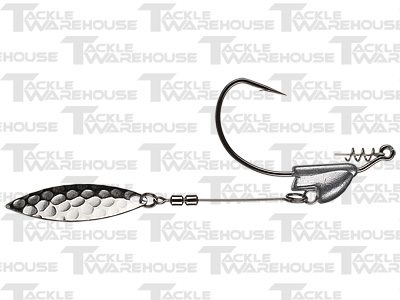 A while back I put up a review of Shimano's Maki Rubber bladed swim jig. I freakin' love that thing, but they're about as hard to come by as a picture of KVD fishing a wacky worm.
Ever since I was introduced to the Maki Rubber I've been on a quest to do three things:
1.) Find a way to purchase more Makis
2.) Figure out how to make my own
3.) Find a replacement bait or something that comes close
I've completely struck out on objectives 1 and 2, but I may have made some headway on number 3, today. I was on TackleWarehouse.com looking for some Owner twistlock flippin' hooks (bad@$$ hooks, by the way) and I noticed a fancy little rig, also made by Owner, called a Flashy Swimmer.
The Flashy Swimmer is basically a weighted swimbait hook with the added pizazz of a free-swinging spinner blade arm on the underside of the head. I'm thinking I could add a punch skirt to this thing and just might be able to pull off a Maki look-alike. Granted, it won't have the same exact action as the Maki, but with the right swimbait, I think it has promise.
I'm about to order a few and after I fish with them for a while I'll put up a review. Has anybody out there fished with the Flashy Swimmer? I'd love to hear your impressions.