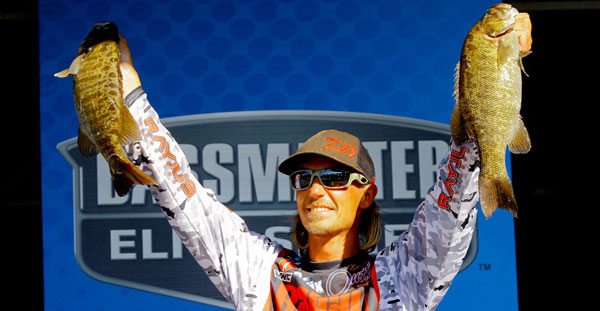 Seth Feider is from MN and for sure knows the upper Mississippi River — mostly north of La Crosse in terms of spots, but the river fishes the same both places. Because Seth didn't know where to fish in the Bassmaster Elite, he checked Google Earth on his phone to find the spots.
"It was definitely the same pattern [as farther north], I just didn't know the spots. I was fishing sand drops — basically super-shallow sandbars with current running over them, dumping into deeper water on the other side. I looked on Google Earth [which had aerial images] when the water was lower and clearer [to find the spots]. I'd go on my phone, find one, go fishing, check my phone, find another and go fish it."
All the bars he fished had these things in common: "It was definitely all secondary current, no main river current. And a lot were at the tops of big backwater lakes, where chutes dump into them. The water that comes out of those backwaters is real clear, and mixes with the dirty [main river] water. That was key too."
He locked up to pool 7, fished about 15-20 spots every day and said he never knew which ones would produce each day. He did weigh a few fish out of pool 8 as well.
Baits
In practice he checked all the spots only by throwing a Storm Chug Bug, one of his favorite baits on the river. "Just to locate them. I fished real fast. If one good-looking fish blew up on it, I'd put a dot on it [mark it on his electronics] and keep going."
But the Chug Bug didn't make an appearance in the tournament because smallmouths — which were all he was fishing for — are notorious for blowing up on topwaters and sometimes not getting them. In other words, he wanted higher-percentage baits. In his case it was a swim-jig/swimbait combo, a swimbait and a Carolina rig. "Most of my big fish came on the Carolina rig," he said.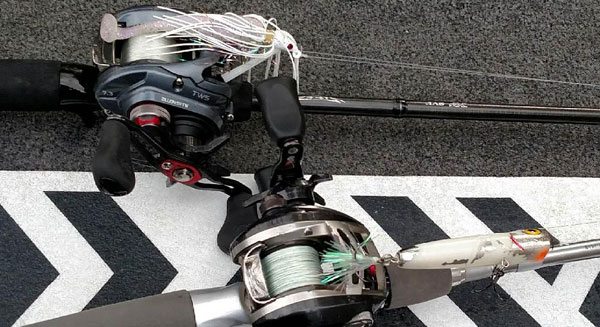 > Swim jig and swimbait: 1/4-oz Outkast Swim Jig (white) with a Keitech-looking Daiwa ribbed swimbait (white/sight flash). "I wasn't just winding it. I'd pop it quite a bit and let it fall too…fairly erratic." He threw it in places that had eelgrass. Otherwise it was the same swimbait on a 1/4-oz jighead. Fished 'em on an 8′ med-heavy Daiwa Steez AGS rod, Daiwa Zillion SV reel (7.3) and 17-lb Sufix.
> Carolina rig: Craw bait (gp with pinchers dyed orange), 3/0 EWG VMC hook, 3/8-oz VMC tungsten weight. He dyed the tips — which Tommy Biffle also did when he won there — because there's a lot of crayfish in that water "and orange shows up well in that brown water." Used the same reel and line, but this time an 8′ heavy AGS rod.
More
> Like winner Ott DeFoe, Seth cast directly upstream. "The cast had to be perfect. Every [sandbar] had a key deal — where two flows came together or a little point on the sand drop, something different with the current. When it was calm you could see those real good, but when it was windy I'd just hold around a [waypoint]…."
> "Those fish were hard to hook — I lost a lot of fish. They'd pick up the bait and run right at you in that raging current. I'd wind as fast as I could. That long rod helped me pick up a lot of slack, and the fast gear ratio helped me keep them tight."
> "I did fish a little in backwaters for largies in practice, and weighed a few largemouths the first day. I think that was the biggest mistake I made — I gave up on smallmouth fishing halfway through the day and tried to salvage the day with largemouth."
> How felt to finish 2nd: "Obviously I was disappointed. You're not going to be in contention to win too many, and I feel I was on the right deal to win. But it was a good week — it was good for my career, and I made it to Mille Lacs. Obviously a hundred grand would've been pretty cool."
> On having his buds watch him fish: "It was awesome. We were having a party out there. They were blowing air horns and stuff — it helped calm my nerves for sure."