Ott DeFoe fished two spots to win the upper Mississippi River Bassmaster Elite derby last weekend. The one where he caught most of his fish was a community hole — a spillway in the upper end of pool 8. Other guys knew about it, other guys fished it, but Ott seems to have fished it differently. Here's how it went down.
Spillway spot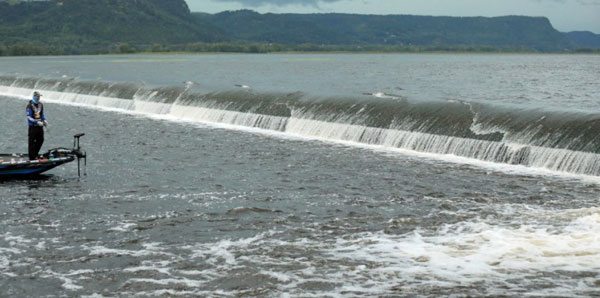 Fourteen of the fish he weighed came from that spot, which he tried on the last practice day.  "I made a couple casts and caught one 2.5, then made a couple more casts and caught one over 3.5.
"I had a pretty good practice on pool 9 the second day. I was going to go and just fish down there [the first competition day], but I felt like I had to start at the spillway to see how good it was."
Day 1 his second spillway fish weighed around 4, then he got a 3, another 4 and a couple over 2. "I was going to stay there, but they kind of quit biting about 9:00 or so. I bounced around and hit a few places, and worked my way down."
Flipping spot
He fished down to his grass-flipping largemouth spot in the same pool (about 20 miles away), got there around 11:00 and culled up with a couple fish.
"I found that area the first day of practice, pretty far down. It's not an area I've ever fished before. It was just one of those big flats with some channels running through it. I was on the trolling motor looking for current or clear areas in that grass.
"My LakeMaster chip showed deeper water [across the flat], and when I got to it, sure enough a ditch was running through there. I went up the ditch where it got shallower, and came back down one side that had a real good edge."
He caught a 2-lber then a 3.5 — "that's the kind of fish we needed there" — and another 3+ chased his bait out of the mat.
He hit that spot every day. "The only change I made consistently after that was the first day I didn't end the day at the spillway, but every day from the second day on I did — and I culled major there."
Baits
Ott fished two mule baits — meaning baits that carried the load but didn't want to name.
At the spillway it was a 6″ solid boot-tail swimbait. Why that vs a jig or something else typical for that river?
"Those fish in current, when the water temp gets below 75, they turn the feed on. They know it's not going to be far before it's cold and they have to be eating. I know those fish eat crawdads, but for me [that time of year is a] baitfish-oriented deal. That's what I wanted to focus on — fish feeding up in the water column and eating baitfish."
He rigged the swimbait line-through even though it wasn't designed for that. "I use a #1 treble hook with a split ring," he said. He used a solid shad color in low-light conditions (early morning or cloudy) and a bait that was a little more translucent when the sun was out.
Keys were making the exact right cast pretty much directly upstream and letting the bait come straight down the current. At first he reeled it back slowly, but on day 2 "I started making myself slow down to where all I was doing was keeping the slack of out of the line. I wasn't pulling the bait with the reel.
"In afternoons it was better. I watched it tumble down through there with the current…like a big baitfish being washed across the dam and floating down to them. The way the current was rolling and pushing water up, a lot of bites were like a topwater bite."
He added that when the water rose on the last day, the fish repositioned to one corner of the spillway and they'd hit the swimbait pretty much right when it hit the water.
It was 4-5 feet right behind the spillway then fell to 6-8′. "A lot of bites came from suspended fish, not deeper than 4′ — the reason it worked is because the water was really clear."

His flipping bait was a 4.5″ Beaver-style bait (black/blue) rigged with a VMC Sinker Stop, 1.5-oz tungsten weight and 4/0 VMC Heavy Duty straight shank hook.
"Five of the fish I weighed in I caught there. There bit on the initial drop, the other two bit after one hop."
Key equipment
Minn Kota Ultrex trolling motor with Spot-Lock
> "There was a lot of current and the thing that was really important there was making repetitive casts. I had to sit in certain places on either side [of the spillway]. You couldn't just throw anywhere and get a bite. You had to make that cast over and over before you'd get a bite.
> "It was too deep for my Talons to work, but with my new Ultrex trolling motor I could hit the Spot-Lock button on it and stay perfectly still. It kept that boat steady in the current so I could make that same cast over and over. A lot of times I'd get bites back to back, so that trolling motor was huge to keep my boat positioned where I needed to be.
> "It took a lot of fatigue out of it too. I could walk all over the front deck and not have to worry."
> "I ran my HydroWave whole time on that spillway too, and I felt like it truly made a difference. You've got fish there, and they will feed at times, but you have to make them feed before they'll bite — I couldn't make them react to that swimbait. I had to make them want to bite.
> "I used the Power Pattern, had the volume cranked up probably 75% and ran it on 30 seconds [intervals]."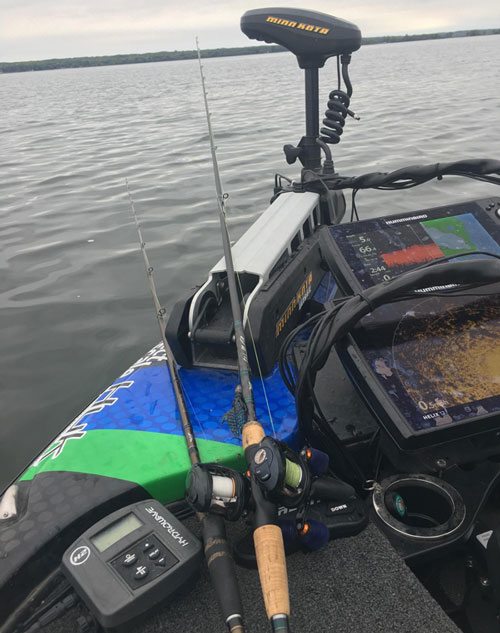 More
> Swimbait rig: 7′ med-heavy Fenwick Elite Tech rod, Pflueger Supreme XT reel (7.1), 15-lb Berkley Trilene 100% Fluorocarbon. Why such heavy line? "With that big bait and that big hook, I didn't want to leave anything to chance."
> Flipping rig: 7′ 8″ heavy Fenwick World Class rod, Pflueger Patriarch reel (7.9:1), 65-lb Trilene braid.
> Why he didn't fish topwater: "I never got on them with a topwater. In practice I caught some decent smallmouths on sandbars and that stuff, but never got 'em going in the tournament."