Justin won it on a spot. Not running the tide, on a spot…like many Potomac derbies have been won. How he found that spot:
> "The first day of practice I fished a little water intake right by that dock. That intake is a community hole. I had 2 good bites off it then a surprisingly good bite on a piece of wood maybe 75 yards away.
> "I decided to fish that dock [a big one] because I was in the area. I fished it for a few minutes but never had a bite. …the rest of practice I never had more than one bite in [any other] area. So my plan was to go up there [to the intake, a 35-min one-way run], hopefully get 2-3 bites then run the river skipping docks."
How the derby played out
> "It didn't really cross my mind during practice to check [the dock] or fish it hard. But the first morning of the tournament, I didn't get a bite at the water intake or on that piece of wood. The dock was the next thing there, and no one else was there, so I decided to pitch around it to see if I got a bite.
> "The first bite was a 3-lber and the next bite was 3.5-lber – that was in the first 10 minutes of fishing that dock, and I had 250 more yards to fish. So I decided to go to the end to see what happened. I got a good limit by the time I got to the end, turned around and came back, and had 17 lbs.
> "I upgraded a couple more times that day — I couldn't believe I had it to myself. I started to see the potential of that area, and that's when I started to get nervous.
> "One day John Crews came to fish water intake — he asked and I said, 'Yeah, no problem.' The last day I caught a couple on it, but the dock was by far and away the deal up there."
The dock
> "The end of the dock had old wood pilings with wooden cross pilings in between every 10 yards. So there was a lot of structure. There also was some on the bottom you could feel but couldn't see.
> "It was 5-8′ on the end of the dock with a ton of grass growing out — like a 300-yd grassline as well. I could also feel bait biting the end of the worm — the bass were spitting up white perch and bluegills. So that spot had shade, structure, grass, current depth, bait — it had everything.
> "I fished all around that area looking for other stuff, and really couldn't get anything going."
How he caught 'em
> "I was using a dropshot, focusing on those wooden cross-pilings below the surface. On a high tide, the fish were suspended on those things — it was 5-8′ deep, and 2-4′ on those pilings.
> "I'd throw over the pilings on purpose, then pull the bait up — I could get it on top of the piling. I was shaking the dropshot on the piling or letting it fall over. [When he let it drop off the cross-beam], they'd follow it down and as soon as I clicked the bail back over and got the line tight, they'd be on it."
Justin wouldn't reveal what bait he used, but you can kind of tell from this pic, which looks like a well-known dropshot worm in a purple/brown color: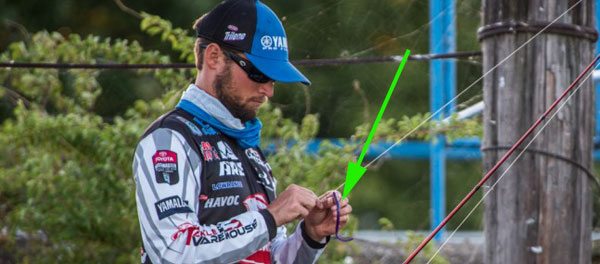 Besides that his dropshot included a 3/16-oz Eco Pro Tungsten cylinder dropshot weight ("it comes through grass and structure better) and a 1/0 straight-shank hook. He flipped it on a 7′ Abu Garcia Veracity medium-heavy spinning rod and Revo MGX spinning reel (size 30, "real fast retrieve").
His line was 10-lb braid, and because of the structure he upsized his Trilene 100% Fluorocarbon to 10-lb.
More
> "I caught couple fish on a swimjig, one fish punching and a couple on a weightless stickbait, but I probably weighed 14 out of 20 fish on the dropshot.
> "I thought the lower incoming tide would be the best, but it turned out that the higher outgoing was best. The water was still somewhat dirty then, and the fish were more active."
> "I had 15-20 bites a day — good for August."
> "I never lost one fish all week.
> "I don't think I've finished lower than 26th yet at a tidal [fishery] in the Elites, but I wouldn't say I consider myself an expert because this tournament could've gone bad for me [if he hadn't fished the dock]. But once I get comfortable in a tidal place — if I get those bites that clue me in — I think I can make things happen."
> How he won the Cali Delta Elite: "I was sight-fishing and flipping fish that were spawning around pilings."
> "I feel like at this point in my career, with all the products I'm using I don't feel like I'm missing anything. It's a really good feeling knowing that every time I go on the water, I have everything I need to possibly win a tournament."