Roy Hawk won last weekend's WON Bass U.S. Open on Lake Mead doing in one way nothing different than what other competitors were doing. But in another way did something way different.
Here's what he did different: He spent his whole practice period fishing the lower basin, near the dam. "I was doing laps around there and finding little key spots. I spent a lot of time in a small area for Lake Mead — I covered about every inch of shoreline around that lower basin." The whole time he was in sight of the entrance to the dam.
He was also watching the weather with an eye to finding areas out of the wind, which was forecast to by pretty harsh during the tournament.
Pattern
Roy basically had a morning pattern and a rest-of-the-day pattern. "The fish would school around with stripers chasing bait in the mornings, and in the afternoons single fish would set up on ambush points — grass clumps, big boulders, sides of points. They'd be bigger and single fish."
He noted that there's "a lot more grass in the lake this year, so [he] fished a lot more around grass. Not every key fish came on grass, but it definitely was a major target. There was more activity there."
Most of his fishing was "in the backs of pockets and on points." The fish were in 15 feet or less, some as shallow as 3 feet.
Baits
Here's a shot of the actual baits he used: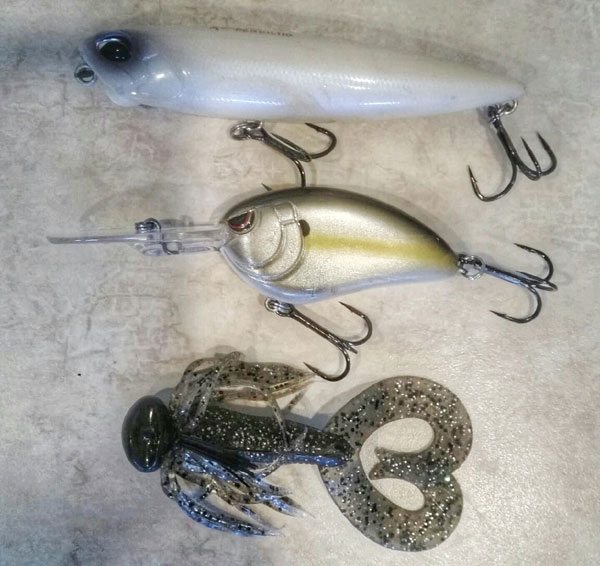 About 90% of his fish came on a Duo Realis Pencil topwater (shad color).
If it got windy, the fish wouldn't come out of 15 feet to get that bait. "It was more like 3-10 feet," he said.
If it was just too windy for a topwater, he threw a Spro Baby Little John DD (clear chartreuse). He also fished it around schooling fish, but it was mainly a bait for the wind.
Another bait he used to catch a few was a 3/4-oz Pepper Custom Baits football jighead (black, no skirt) with a Yamamoto Double Tail Grub (smoke hologram).
Notes
> He used 50-lb braid with 30-lb mono leader for the topwater, and 12-lb Yamamoto line for the other two baits.
> He fished a team derby on Mead before the Open, and said the same pattern worked then too.
> Day 1 of the Open he weighed all largemouth. Next 2 days he had mixed bags.
> His son Sunny won the co-angler side of the FLW Forrest Wood Cup a couple weeks ago.