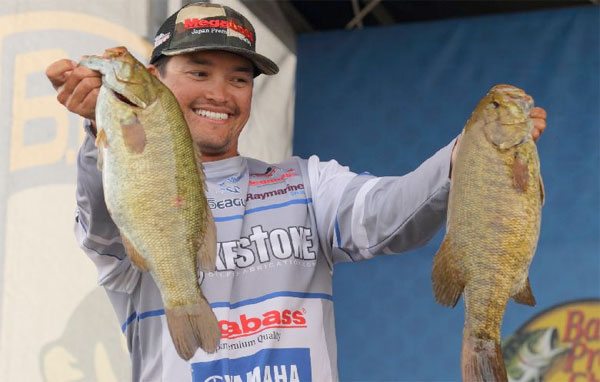 Chris Zaldain won the Bassmaster Angler of the Year tournament on Sturgeon Bay last weekend basically with one bait: a 3″ Megabass Spark Shad (albino). That bait and finding a spot everyone else missed were the keys to his win. Here are the details.
Practice
"I practiced real fast, fishing a Megabass Vision 110 jerkbait (elegy bone)," he said. "I caught 15-20 fish within the first couple hours of practice, and I thought it would be on fire. They were fall smallmouth up shallow.
"As the week progressed, that totally went away. The third day of practice I went through places with a jerkbait, a spinnerbait, a dropshot and a tube, and caught a few fish doing that" – but not enough.
The last part of the last practice day, he went to an area near Monument Point and, in a heavy wind, made one drift through it with a 3″ Megabass Spark Shad (albino) on a 1/4-oz jighead. He caught two fish: "On the [first cast] fall, a fish ate it – a 3.5-lber. The very next cast I was just swimming it back, hooked a giant one and it came off.
"Those two fish told me it was a great area – because everywhere else I'd just catch one. But I had no clue how good it was til 2 hours into the first day."
The spot
The area he fished was half a mile offshore. "It was a large shoal area – several miles long with a bunch of high spots on it, about 14-16 feet deep. On the map it had zero contour lines – it looked like a high spot. But once you got on it, it looked like there were breaks on it – lots of them, like 20 or so shoals that topped out in 10-12 feet."
Instead of trying to fish them all on day 1, he chose two: the one that was closest to the bank, and the one farthest out. "The fish transitioning to the bank want to feed on the bank, so the high spot closest to the bank had the most smallmouth traffic.
"The furthest one out was a secondary area I caught maybe 6 fish off. It was just a little stop for the fish coming off the lake, from their summer deeper-water areas.
The closer-to-the-bank spot was 100 by 60 yards with "maybe a dozen table-top-sized boulders that were about 2 feet tall. By the end of the tournament, I had all those boulders marked so I knew exactly where to cast." Here's what that looked like:
"The biggest key was the presence of baitfish," he said. "I'm assuming they were alewives. The schools were no bigger than a beach ball – they looked like little Alabama rigs on my graph.
"Every time I'd see on them on my Raymarine DownVision, I'd really pay attention to my next 3 casts. Those would be really critical for me. I'd make sure I had the correct presentation – basically I'd cast to the very first boulder, and most times I'd get a bite when bait was present."
Wind direction was also key. "All that wind [on the Great Lakes] creates current. So when we had a north wind, I'd pay extra close attention to fish the south side of the boulders." And vice versa when there was a south wind.
He fished the 3″ Spark Shad on a 1/4-oz ball head with 15-lb braid and 8-lb Seaguar Tatsu fluorocarbon leader. Key was a 7′ Megabass shakey head rod that let him make long casts. He let the bait fall on a semi-slack line, then gave it a pop off the bottom.
"I'd slow-roll that swimbait down the sides of the boulders, and in and around the boulders," he said. "Just off the bottom. It's no different than throwing big swimbaits like we do in Clear Lake. Just cast it out there, then a slow, steady retrieve."
In the AOY tournament, the anglers fish 2 days, theng et a day off, then fish a third day. The third fishing day was different for Chris.
"I started on my main area and didn't have a bite. I wasn't seeing near the amount of bait. I told my camera guy, 'I've been in this position before, been in the lead, and I told him I'm not going to go down in flames being stubborn.'"
So at 9:30 he took off north to his next set of waypoints. It was a 4-mile run to a point near the bank where he'd caught a couple jerkbait fish in practice. Happened that Chad Pipkens, Brandon Palaniuk and Mike Iaconelli had found the same spot, which Chris didn't know since he hadn't fished it in the tournament.
Ike had just left, Chris asked Chad if it was cool if he fished it, and the result was a limit anchored by a 4-13 swimming the swimbait along the dropoff.
More
He also caught a couple fish on dropshotted, wacky-rigged 4″ Yamamoto Senko (green pumpkin). "If I saw a single fish, I'd drop that Senko on them. They weren't eating it on the fall. I had to sit there and shake it really good."
Keys for that rig were a heavier than normal weight (3/8 instead of 1/4 oz) and "a lot longer than normal 24-26″ leader – because the gobies would grab the bait, so that extra-long leader helped keep it up off the bottom and more visible to the smallmouth."