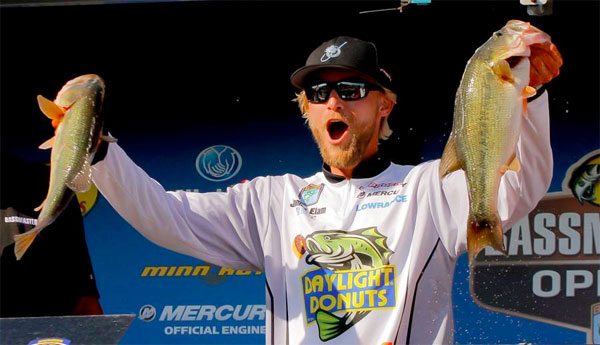 Elite pro and local boy James Elam won last weekend's Fort Gibson Bassmaster Central Open by doing something that's usually hard to do: Fishing community holes. That's not all he did, but he for-sure caught some fish in well-known spots — that other people fished — to help him win. Here's more about that and what he did.
Conditions and strategy
"In August, that lake is really good," he said. "The first or second week of September we get our first cold front or hurricane-remnant weather with some rain — when that happens, it throws everything for a loop. So I was ready for that. It happens every year.
"We got two cold fronts and some rain a couple days before the tournament started, and the lake came up a foot or 2 feet.
"I was catching them okay in practice — about half the places held up [in the tournament], half didn't."
Because of the conditions, James decided to fish the lower end of the lake. "It was more stable and the fish tend to not move as much there when the weather does that."
"The spots I caught some of those fish on, they actually stayed on the same spots — instead of being in 2 feet they were in 4 feet [because of the higher water], and instead of being in 6 feet they were in 8.
"They wanted to be in around 6 feet, but if you found the right stuff in 4 feet or in 8 feet you could catch them out of that too."
Where he fished
James said: "Offshore rock, points, sides of points, small breaks, rock spurs and piles, and brushpiles on and around those key areas. Most of the larger fish came from brush.
"The key was to fish slow and patiently, and fish things multiple times. And just because you didn't catch them there one day didn't mean you wouldn't catch one there the next.
"Different baits were better different days and different spots were better different days."
About the community holes: "A lot of stuff on Fort Gibson is pretty well known. It's close to Tulsa — a lot of it gets hammered. I know areas a lot of people don't fish, that don't get the pressure — but sometimes you can find a little bitty place on a popular spot off to the side. Stuff like that came into play. There's little tricks you can do, like fishing different directions and stuff like that, to pick up a few bites on popular places.
Baits
He fished a Brush Hog, a worm and a jig. "Every day, one of them was better than the others. It's kind of like typical Kentucky Lake stuff, just shallower water."
Here are the actual baits he used: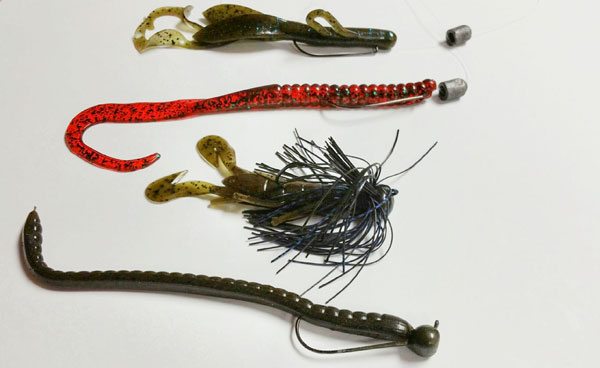 > Zoom Brush Hog (green pumpkin blue), 3/8-oz weight, 4/0 Owner All Purpose Worm Hook.
> 10″ Berkley Power Worm (red bug, discontinued color), same weight and hook.
> Homemade 1/2-oz football jig (black/ blue) with Zoom Ultra Vibe Speed Craw (green pumpkin).
> 3/16-oz Owner Shakey Ultrahead with unnamed 7″ worm (green pumpkin).
He calls the weights — made by his dad — "rock weights." Said: "I use them in non-grass lakes. They are rounded and do well in the offshore rock. They don't wedge. And a lot cheaper than breaking off tungsten."
No Biffle Bug on a Biffle Hardhead?? "It seems like everybody has thrown the Biffle Bug the last 4-5 years, so that's the last thing I wanted to throw. You'll get bit on it, set the hook and they're not there."