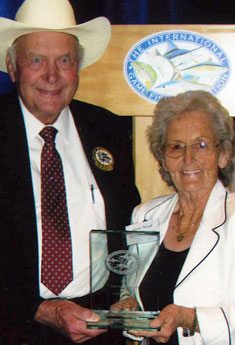 Or Maybe It Should Be An Annual Award?
You may have seen that Forrest Wood was recently inducted into International Game Fish Association (IGFA) Hall of Fame. A lot of cool, influential and important folks in our little corner of the world  are in that hall (Ray Scott and Ernest Hemingway are two of my favorites), and Forrest was a natural to join them because for some odd reason he wasn't there already.
But here's the part that stuck out for me and always does when Forrest's achievements are brought up (quote is from the IGFA info):
"Forrest and Nina are the two halves of the success story that is Ranger Boats…."
Absolutely correct, and anyone who was around during Forrest's run at Ranger Boats will tell you the same thing: Nina was a huge part of everything Ranger.
So we have the FLW Tour, the Forrest L. Wood Cup, Forrest enshrined in various halls – can someone please name something after Nina? (Btw, that's pronounced "nine-a.") She for dang sure deserves it. I'm pretty sure I can get Forrest to back me on that.