Matt Herren won the Toyota Texas Bass Classic on Lake Ray Roberts by half a pound. A tight one in challenging conditions, here's how he did it.
Practice
> "The lake was 2′ over full, and they started dropping it drastically when we got there. Early in day 1 of practice, the fish were in the bushes and willows, but they started coming out. By mid-day on the 2nd practice day, we'd lost a foot of water.
> "I picked up on it and knew I had to make an adjustments. I figured out where they were going – into the drains on spawning flats…started suspending around salt cedars in 6-10′. The fish were halfway down the water column.
> "It was definitely a shade deal. You had to get shade on the tree before they would suspend on it. Early you couldn't catch them, and if was cloudy you couldn't catch them."
Days 1-2
> "I fished a Santone M-Series Jig, 5/8-oz watermelon red, with a watermelon red Reactions Innovations Twerk trailer.
> "It was a reaction bite. I'd throw it in the shadiest spot on the tree, let it fall to the bottom and if a fish didn't have it I went to the next tree. I fished thousands of trees.
> "The line would just curl and swim off. What didn't make any sense was they left the tree like another fish was with them. That gave me trouble the first 2 days because I thought I'd catch another [on the same tree] but never would.
> "I fished the jig on a 7′ 6" heavy Kistler KLX rod, Ardent Elite reel [7.3] and 20-lb Gamma Edge fluorocarbon."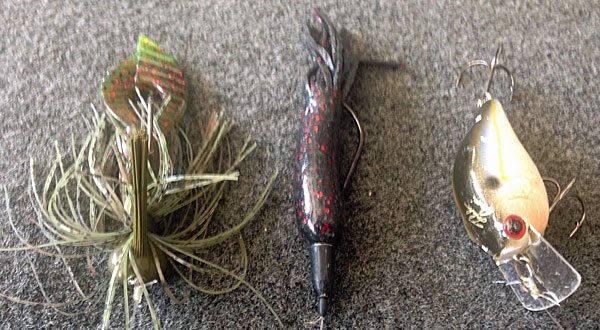 Day 3
> "Day 3 was cloudy and windy, totally different weather conditions. I'd had struggled all week early, not really catching anything before 10:00, so I gambled. Instead of struggling all day I decided to try something a little different.
> "Bill Lowen and I work together on the Elites. He told me he was working an area that had a pretty good shad spawn going, and since I was struggling early to go there…bridge corners.
> "I caught a 3-08 on a Lucky Craft RC 2.0 (threadfin shad). The shad were spawning on the rocks, and the bass were on the rocks – it might have been a foot deep. I was just casting it to the shallowest rocks.
> "I got that 3-08 and a couple 2-lbers…a big bonus for me considering I had struggled early. It settled down and just went fishing. I caught a 5 on a big hardwood tree in the middle of some willows, a 3-08 on broke-over willows – I just got into a groove. The sun never came out. I never caught a fish doing what I'd done the first 2 days.
> "[Later] I went back shallow and caught a key 3-lber and another fish on a 4.5" salty flipping tube, black neon. They were shallow – fry-guarders in the backs of pockets.
> "I fished the tube with the same rod, reel and line as the jig, with a 1/4-oz Elite Tungsten sinker and a 5/0 Hayabusa straight-shank hook.
> "The crankbait I fished on a 7-foot medium Kistler Helium 3, Ardent Apex reel [6.5] and 14-lb Gamma Edge."
More
> He fished 4 creek arms: Wolf, Indian, Buck and Isle du Bois, which is pronounced "I'll have no ideal."
> "I thought I had a chance to win the tournament. After practice I was very excited. I'd picked up on where I thought the fish were going, and I was watching the other guys fish and knew they hadn't figured it out. They were really keying on willows.
> "I had several bites on the last day of practice – giants, 7-lb bites. I felt like that was going to get stronger. I didn't anticipate struggling with it as much as I did.
> "I never really did settle down on an area where I felt like it was going to go down. That kept me on my toes, and when you're losing 6-10" of water a day, that's a good thing.
> "I struggled at T-Bend because I never could commit – I spent 1.5 days out [deep] and 1.5 days up [shallow]. But at Ray Roberts, as soon as I put my boat in the water and saw a 68-degree surface temp, I wasn't going out."
> "One of the biggest reasons I haven't won til now is just dumb luck. I haven't fished badly, it's just every tournament when I came in 2nd or 3rd some guy won it on a glory hole. You can't beat a guy who's on a glory hole. There's been five tournaments where, had it not been for one angler finding a glory hole, I would've won every one of them. So you have to be careful in evaluating making big changes in what you're doing. I've been averaging over $100,000 in winnings per year throughout my career – I don't need to change much. I just need a little luck, man!"