Here are the 2nd-, 4th- and 5th-place patterns from the Bassmaster Elite at Toledo Bend. Short and sweet.
2nd: Chris Lane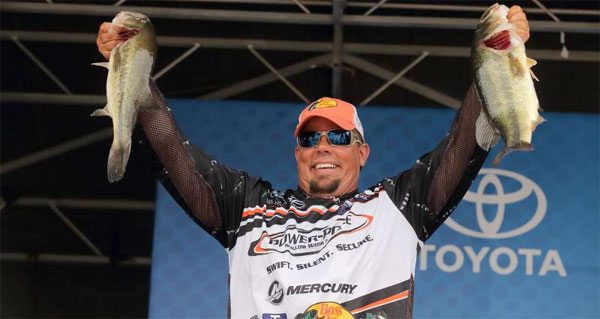 > "I fished from the bridge down…topwater on the edges of the grasslines and by cypress trees.
> "I've been throwing topwaters my whole life – it's pretty much what I was raised on – and the size of the fish that were biting kind of led me to do that.
> "The wind played a big factor. If it was blowing, it was hard to throw the topwater. But a little wind was really good.
> "IÂ  went to my first spot to flip the bushes and had shad spawning right in front. That let me pull out the topwater. I caught some flipping as well.
> "I was fishing the mouths of creeks and big pockets. I stayed on the main lake – I never really went too far back.
> "Cypress and grasslines in 4′. The bigger bites would come in the afternoon.
> "I caught them on topwaters – including a Snag Proof Ish's Phat Frog (white) and – flipping a Luck E Strike Drop Dead Craw (Okeechobee craw). I rigged the craw on a 4/0 Trokar Flippin Hook with a 1/2-oz XPS tungsten weight.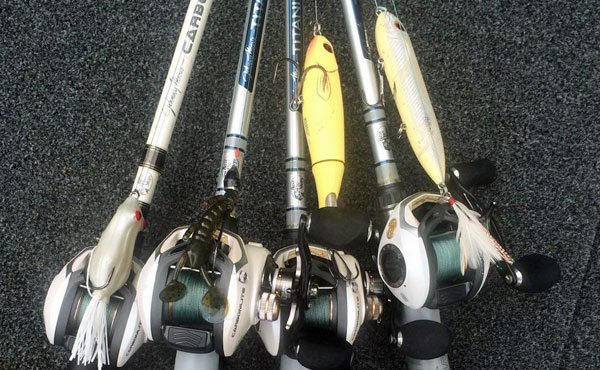 > "I fished all the baits on the same setup: 7′ 4" medium-heavy BPS Titanium rods, 7.1 Carbonlite BPS reels and 50-lb Stren Braid.
> "Toledo Bend is in great shape. I felt like if I stuck with my guns and picked up a 5- or 6-lber every afternoon I'd be in good shape, and that's the way it worked out."
4th: Keith Combs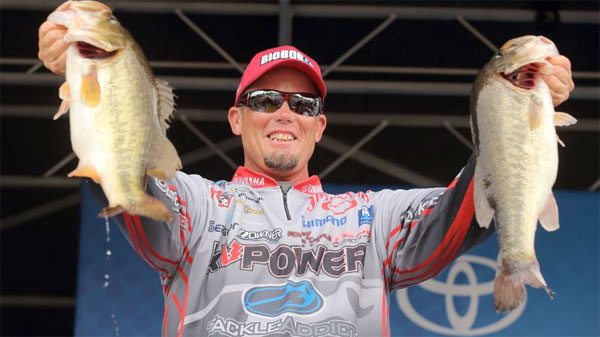 > "The first, 2nd and 3rd day I started close to the dam and worked my way up north. I ran over 100 miles those days. Day 4 I fished the north end all day.
> "I just concentrated on little corners of main lake ridges and creek intersections. I think
they were more related to the drop: Some places had some brush, but I think the fish were just concentrating on areas that had shad.
> "They were schooled up like white bass. Every place I caught a 5-lb fish, I had to go through all those little ones. You could sandwich a 5-lber between 12-incher and a 2-lber. I'm almost certain I caught over 100 keepers the first day, and at least 40-50 per day after that. You just had to catch them and cull through the little ones.
> "I caught at least 40 white bass a day, and they were big – 17-18" whites.
> "All but three on fish came on a Strike King 6XD in Tennessee shad 6XD. I did throw a 10XD on day 4 – I got one fish on it – but I was really concentrating on that 12-15′ range.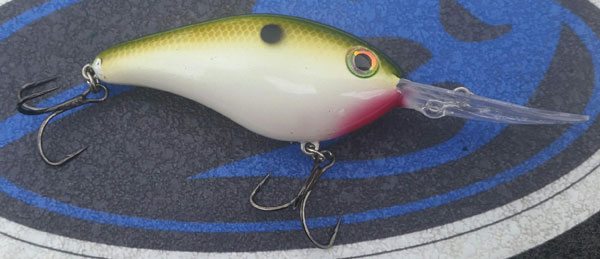 > "I did mix it up a little, but I couldn't figure any way to keep from catching small fish and my confidence was in that 6XD.
> "I was keeping it in contact with the bottom. Most of the time my boat was sitting in 22-30′ and I was casting on top of a ledge in 12′. I feel like most of my bites came in the 12-15′ range when the bait was contacting the bottom.
> "I reeled fast – I tried to fish it really aggressively. If I slowed it down I was definitely doing to catch a white bass. Fishing fast you'd still catch them, but…. I had to make as many casts as I could during the course of the day
> "I fished it on a 7′ PowerTackle signature series crankbait rod, 15-lb Seaguar Invizx fluorocarbon and Shimano Curado (7.2).
5th: Paul Mueller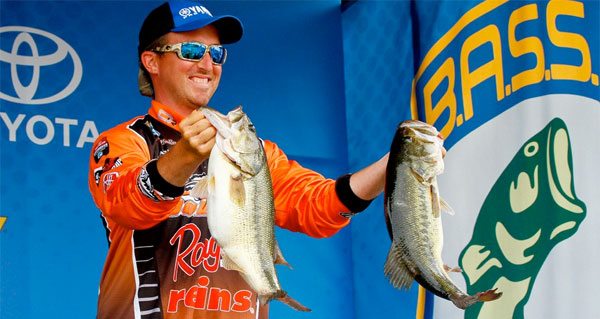 > "I fished the Strike King 6XD and 10XD in the morning when there was low light and wind. Fished them on a Dobyns Champion 805 CB glass Paul Mueller signature deep cranking rod with a Lew's BB1 5.0 reel and 14-lb Gamma Edge fluorocarbon.
> "I also finished my limit and caught some key fish including a 5-lber on day 3 on the 7" Reins Bubbling Shaker in margarita mutilator.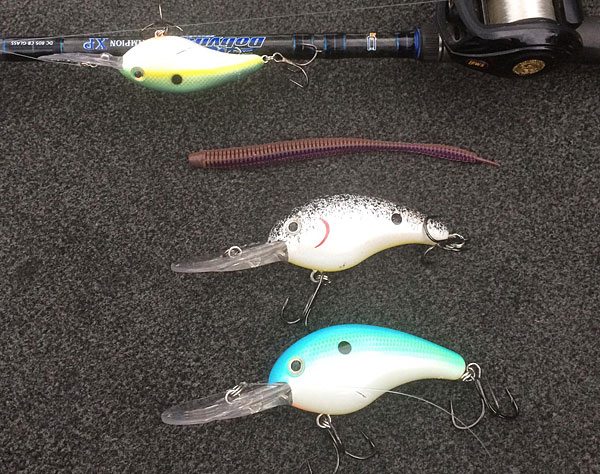 > "I focused on points and flats 15-23′ adjacent to creek or river channel.s These were the first stops for the post-spawn bass and they were feeding on yellow and white bass that I believe were spawning because I would have eggs on my bait and line sometimes when I was cranking.
> "Fast retrieve with the crank – you had to make contact with the cover. Slow and methodical with dropshot."