FLWer Bryan Thrift almost baked a cake at the TTBC on Lake Ray Roberts, TX – and didn't even have a recipe. He was just fishin'. Here's how: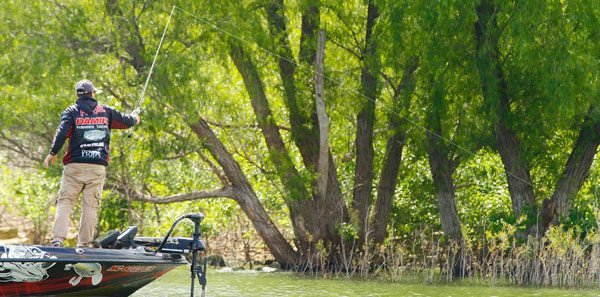 > "The first day I caught the bulk of my weight on a white 3/8-oz buzzbait in 1-3′. I was fishing main-lake stuff, the result of a terrible practice. I was hoping to come across a shad spawn.
> "The first day it was perfect conditions for flying down the bank – heavy cloud cover and no wind. The fish were up there shallow, so it was just cover water and get a reaction. My trolling motor was on 80% percent, I'd cast as far as I could and wind back as fast as I could.
> "Day 2 I started out with the same plan. We had sun and wind, but the wind had changed directions. In practice it was N/NW, and day 2 it was E/SE. It was blowing right in on the stuff where I caught them on the buzzbait, so that morning I ran to the same places.
> "I caught a small limit – on a spinnerbait, a Damiki Mamba Jig, a Damiki Armor Shad – then the sun came out pretty good and I caught two good fish flipping a Damiki Knock Out.
> "Day 3 it was partly cloudy and the wind was just like it was on day 2. But I never got any bites going down the bank. About 9:00 I bailed and put the flipping stick with the Knock Out in my hand the rest of the day. I was flipping bushes.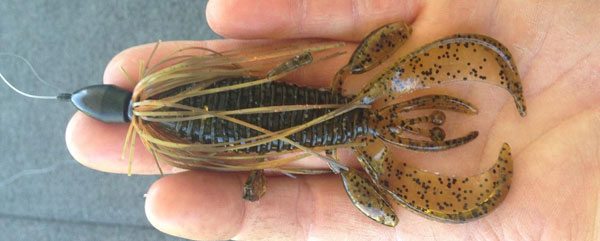 > "I was mostly targeting small willow bushes – I don't know why the smaller bushes were better. I also caught couple fish off some hardwood stuff.
> "I fished the Knock Out [gp] with a 1/2-oz tungsten weight, a punch skirt [gp] and a 5/0 straight shank hook. The rod was 7′ 6" Fitzgerald Okeechobee (heavy), I used a "right-handed reel," [he doesn't have a reel sponsor] and 20-lb fluoro."
3rd: Luke Clausen
> "I started every morning – me and Chris Zaldain – on a set of tires [over 12-15′] that had a shad spawn going on in front of a marina. The first morning I did pretty good – a 6-lber, a couple 2-lbers.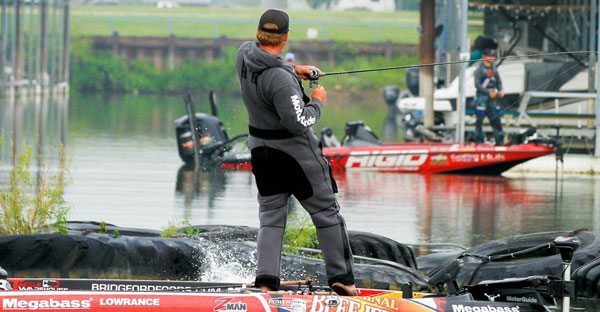 > "The next morning I had one there about 1.5 lbs, the third morning I caught a 4.5. From there it was wide open – I fished new water every day. I caught them on a frog, flipping bushes, a buzzbait, several topwaters.
> "I was just fishing everything on the lake that looked good: little sections of rock on the bank, main-lake bushes, backs of pockets. No real-defined patterns by any means. I fished shallow pretty much the whole time. The lake fishes pretty small – you could fish the whole thing in a day.
His baits:
> Flipping tires: 1/2-oz Dirty Jigs Tour Level Pitchin' Jig (white), Z-Man Turbo Crawz (pearl).
> Other flipping: Z-Man Palmetto Bugz (green pumpkin, California craw), 3/8-oz weight, 4/0 straight shank hook.
> Docks: 1/2-oz prototype weedless Project Z bait (white) with a Razor Shadz (pearl), and a Megabass 1.5 S Crank (sexy French pearl).
> Unnamed froggy.