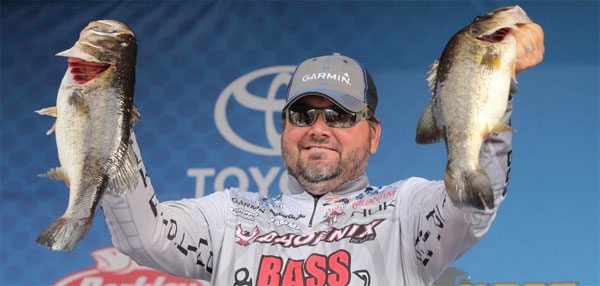 Greg Hackney had one of those "I didn't lose, I just got beat" tournaments at the St. Johns River Bassmaster Elite. Were it not for Rick Clunn's gargantuan day 3 bag, Hack would've won. Here in brief is what he did all 4 days.
Where
"I got all my weight the first day swimming a jig — the weather was good for it, just perfect. I went way south, Lake George, and fished around a pretty large group of fish. I had a good-sized area to myself.
"The second day I fished upriver and lake George. I started upriver, when the tide was right.
"Day 3 I abandoned those two areas and ran to a totally new area in Lake George I hadn't caught any fish at in practice: I looked at it, but it was too dirty. It cleared a little when the wind laid down that day. It didn't have a lot of fish, but I saw a big one on a nest that I caught."
"Day 4 I stayed pretty close to the ramp [in the river] all day. I didn't have any other areas, and there we had a lot better tide for what I was doing."
Baits
"I caught pretty much all my fish on a 3/8-oz Strike King Hack Attack Heavy Cover Swim Jig (black/blue) with a Strike King Rage Craw trailer (blue bug). Long casts and really burning it fast seemed to be the deal.
"It only seemed to catch big males or females. By using it, I was staying away from 12- to 13-inch fish."
He also threw:
> A 5-inch black/blue Strike King Shim E Stick rigged with a 3/16-oz Strike King Tour Grade Tungsten Weight and a 5/0 straight-shank flipping hook on 20-lb Gamma Edge fluorocarbon. "I sight-fished it or threw it at the light spots – anywhere I thought there was a bed: cattails, holes in the eelgrass, I flipped lily pads with it. I've caught them on that bait every time we've been there."
> A Strike King Magnum Dream Shot (brown/purple) rigged with a 1/8-oz Strike King Tour Grade Drop Shot Weight, 3/0 straight-shank flipping hook and 16-lb Gamma fluorocarbon. "If I found one – if I knew one was there, I saw it move – I deadsticked the Dream Shot."
> A homemade prop bait (bluegill). "It seemed like early in the morning, when it was dark and cloudy, the fish were cruising around. They would still be within 20 feet of the nest, but they were pretty aggressive."
Other stuff
> He fished the Shim E Stick and the Magnum Dreamshot on a 7′ 6″ Quantum Smoke flip stick (medium heavy with a soft tip) and a 7.3 Quantum Tour KVD 150 reel.
> On fishing the river tide: "For me, the best was the last 2 hours of outgoing and the first 2 hours of incoming. It wasn't about water moving just the water level. The last 4 hours of the lowest water it seemed like could do the most damage at the river."
> "It felt like the fish upriver weren't as far along – there were more spawners left upriver than downriver."