Britt committed to the 2-hour one-way run to the Cooper River. "I decided before the tournament that's where I'd fish. I picked a 4-mile-square area to focus on – I knew I couldn't run around fishing waypoints here and there like I had 8 hours to fish.
"The key was I found a lot of fish real close to each other. If I ran anywhere it was just a 2-minute run."
He fished a stretch of flooded old rice fields on the Cooper River. "They're flats that have ditches running through them. So with only having about 4 hours to fish, you had to go to one area, put the trolling motor down and fish.
"When the tide was right, I'd get on the trolling motor and run to the ditches that had hydrilla in them. When the tide was wrong, I'd fish trees or wood – spawning bass and fish ready to spawn on the flats."
Bait was key
"I think the biggest key was bait choice," he said. He used a 1/2-oz original Chatterbait (white) with a Keitech Swing Impact Fat (sexy shad). With most competitors – including 2nd-place finisher Brett Hite – using green pumpkin, that was an odd color choice.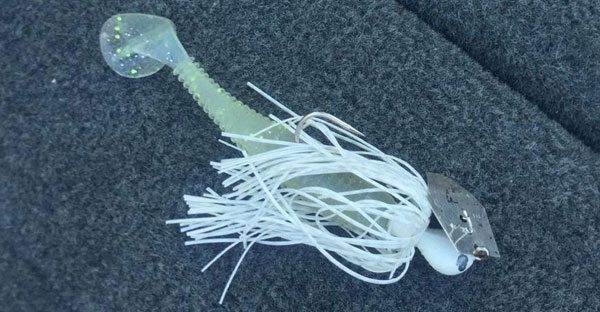 "To be honest, I'd just left the Open the week before and they were biting [that color combo] really good there. So I was just rolling with it and it happened to work out.
"The first day I fished around Dave Lefebre – I fished behind him, he fished behind me. He was like, 'Dude I've watched you catch 30 and I didn't catch any.' I kind of got lucky I had the bait dialed in.
"The last several years I've really figured out you can't just catch them on every bait. You might get one here and there, but certain baits, if you can find them, just trigger those fish to bite. This was probably like what Rick Clunn did in Florida."
The Chatterbait/swimbait combo he feels is more of a big-fish bait. "When the fish are spawning around stumps, if you throw a smaller bait you'll get the male bass to bite. The key was triggering the big ones to bite."
Timing also important
On the 2nd day, when he had 21-07, Britt made the right casts at the right time. "With the homework I did, I understood the tide. That day I caught back-to-back 4-lbers in a little ditch. If you made that cast too early, you wouldn't have given the fish time to get grouped up.
"You spooked the fish if you were too early – you busted up the school. You wanted the fish to get there and get grouped up, so when you threw that bait they were competing over it when it went through there."
That key cast was at 11:30 on day 2. In practice it was at 8:30. So timing it right was key.
"I like to cast to the deepest part of the water and bring it up through the hydrilla – pull it up through there and pop it in their face."
The last-minute Fluke
"The night before the last day I looked at the weather and it said 5-10 mph winds. 10 mph is good for the Chatterbait, but 5 mph meant it possibility could be slick. And when it gets slick, the Chatterbait's not the best.
"The last hour it got slick – I could see the fish swiping at the Chatterbait, biting the tails off. I only had 3 fish. I switched to a Zoom Super Fluke [pearl white] – In South Carolina that Fluke is a fish-catching bait when you need keepers." That's all he needed: "They sealed the deal for me."
He made long casts across the flats, and used a barrel swivel (14″ leader) to keep the line from twisting and to give it a little weight so he could throw it on a baitcaster. "The Fluke makes no wake, and that real natural action is what triggered them."