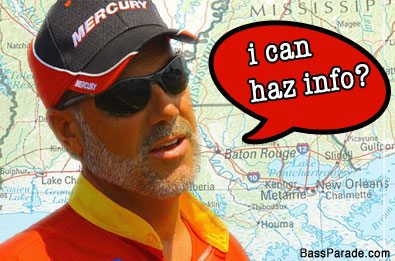 Do you live in Louisiana? Do you know how to catch a bass? Do you know how to navigate the Louisiana Delta without killing yourself?
If you answered yes to any of these questions, we'd like to introduce you to Boyd Duckett. He's your new best friend.
Apparently our boy Boyd has been so wrapped up in his business ventures this offseason that he hasn't had much time to chat it up with local Delta sticks about the 2011 Bassmaster Classic. In the latest installment of his Boyd's Biz blog at Bassmaster.com, he says: "Here's my problem: I can't get help. I want somebody to talk to me about the water we're going to fish in the Classic because the Louisiana Delta is a huge body of water and it's almost impossible to figure out without some guidance. We all get help, but the well looks dry."
To set the record straight, Boyd's not doing anything wrong or illegal. It's open season for info mining as far as BASS is concerned, and you can bet that every pro with a pulse has his ear glued to a cell phone trying to scavenge every last tidbit of insight about the Delta he can. And that's Boyd's problem. In his words: "I'm a late shopper, and everything's been bought. (By the way, that's just a figure of speech.)" Sad face.
Check out the full blog entry, here. The post gives some pretty interesting insight as to how the Elite Series pros prepare for tournaments in their pre-pre-fishing time.
Oh, and we're not kidding about Boyd really needing info. He invites you to get in touch with him at his website, BoydDuckett.com, if you think you can help him out.