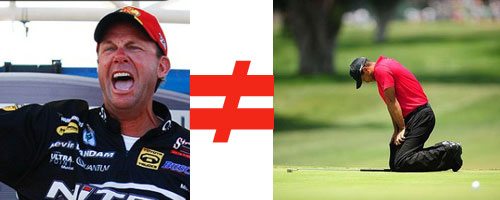 To help non-angler-types understand just how good a fisherman KVD is, for years people have called him "the Tiger Woods of bass fishing" – though I have said (on TV!) that Tiger wished he was the KVD of golf. But now that Tiger is better known for, you know, his "shenanigans" than for his golf prowess, who should we liken KVD to now?
Don't limit your ideas to sports figures. Here are a few to get you going:
> Jack Nicklaus, or is he a bad reference because he's retired? Does that matter? If not, how about Ted Williams, Gayle Sayers, Jim Brown or that skinny little "hawkey" player, Wayne someone?
> I guess track star Carl Lewis won't work because he's…you know.
> How about fellow intense Michigan outdoorsman Ted Nugent, minus the swear words and loin cloth. (Politics aside, I still laugh when I remember seeing the Nuge onstage, calling Al Gore a "faggot." It was so out of context, it had me in stitches, like, "Did he really just say that? Into a mic? At a thousand decibels?")
Who are your nominees here?