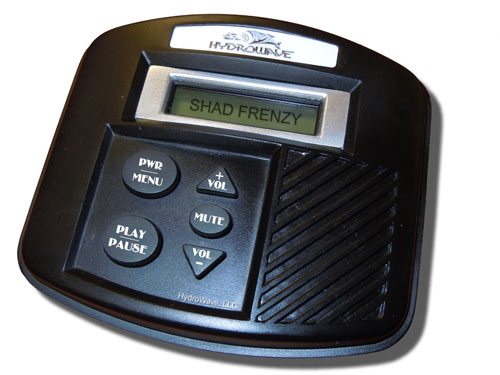 Just got a news release about a BioSonics-sounding product called HydroWave. Here's the pertinent info:
> A new fishing electronics company, with Kevin VanDam and Jeff Kriet among its business partners. Both men will have a HydroWave on their boats and in use at this week's Bassmaster Classic.
> The HydroWave unit incorporates the latest in patented sound-emitting technology that effectively imitates the audible underwater sounds of baitfish and fish-feeding activities, which has proven to stimulate feeding impulses in gamefish. The unit emits sound waves that predatory fish feel, hear and sense as natural baitfish activities, to "ignite a feeding frenzy."
The rest of the info is below, but that's it in a nutshell. VanDam and Kriet, sound-emitting units, on their Classic boats.
I ask you: Does that make sense in view of the whole "level playing field" (same boat, etc.) Classic? I'm not saying it's wrong and I think it's great that some guys are pushing the envelope. But what's the Classic-specific line here?
Examples:
> What if a Berkley-sponsored angler had a Berkley doohickey specifically designed to chop of Gulp! baits for chum-like dispersal?
> Or what if a sound device was hung off an anger's boat to force fish away or to certain areas?
Asking you to weigh in here. Here's the rest of the release:
HydroWave is the brainchild of successful Dallas businessman and competitive bass angler Gene Eisenmann. He introduced the concept to Robert Palmer, an engineer with extensive background in electronic product engineering and development, and owner of RHP Industries located in Aubrey, Texas. Together they designed and built the HydroWave.
Eisenmann contacted Kriet, a longtime fishing friend with electronics savvy, and VanDam, who has a known history of how fish react to sound, to team in the venture.
"I've always paid attention as to how fish seem to feed and respond to each other while in competition for food," VanDam said. "Like most bass fishermen who spend a lot of time on the water, I've witnessed situations where a school could be fired up by getting just one fish to bite. Igniting those kinds of flurries during a tournament day can be a huge advantage. HydroWave is about providing that stimulus for that first response to get things going."
Eisenmann elaborated that the concept of using sound to excite fish is nothing new … reports of tribesmen slapping the water, striper fishermen revving their outboards and others using various electronic contraptions as ways to attract and activate fish have been talked about in fishing circles for years upon years. "But what we're talking about with HydroWave is different," he said.
"HydroWave's finely-tuned amplifiers deliver Tactile Sound Transmissions," Eisenmann continued. "Tactile sound is different from ordinary sounds because they are the sounds and vibrations that you can actually feel. Tactile sounds are what fish respond to."
"All the elements have to be there in order to produce a sound that is natural to a fish. For example, if you were wearing earplugs you couldn't hear most of the sounds around you, but the sound of a sub-woofer would resonate throughout your whole body. That is tactile – the sound you can feel through pressure waves – and that is the sound that HydroWave produces."
Eisenmann went on to explain that biologists have long known certain facts about how fish sense prey, how they "hear" through combined senses using both ear bones and their lateral lines. "Simply put, fish hear through a complex system that includes sound, vibration and pressure waves. The presence of bait along with other feeding fish is what elicits a response, and that is not triggered by sound alone. You must have all the ingredients – pressure, vibration and sound – combined in the right frequency to stimulate a feeding response. HydroWave's Tactile Sound Transmissions incorporate both Lateral Reactive Technology and Vibration Reactive Technology."
With HydroWave, all of the sounds and sound loops come programmed into the unit's software; there is no loading of programs and/or sounds required. Operation is truly a pick and play procedure. There are only five buttons with just a few selectable functions on each. Among them are powering on and off, picking the pattern to play, selecting duration and delay, muting the external speaker that's built into the unit for the angler to hear, and adjusting the volume levels.
Fishermen being part of the HydroWave ownership is also why the product is so compact, durable and easy to use. The unit measures approximately 4″ x 4.5″ x 1.5″, and can either be mounted using a bracket or Velcro, both of which are provided. Construction features a durable injection-molded housing that is 100-percent waterproof. Extensive testing was conducted to ensure the housing and electrical components would withstand the constant pounding of rough boating conditions. Ease of operation was a must-have from the beginning.
"Most electronics have way more choices than what a fisherman would ever need, much less remember how to use," said Kriet. "When fishing, I want to be able to push a button or two and get right back to casting. Trust me, HydroWave is built for simple operation."
HydroWave installation was also designed with simplicity in mind. The only wires involved are the power cord and speaker wires. Power comes from a 12-volt source on the boat and simply plugs into the unit. The unit mounts easily in the boat's bow area with the bracket or Velcro. Whatever the mounting choice, set up and takedown requires only a few seconds of time.
The HydroWave speaker is a true omnidirectional speaker. That means it outputs sound in all directions in an even pattern and wavelength, regardless of the trolling motor's direction. And HydroWave features a patented Frequency Amplification System that is specifically targeted to the volumes and frequencies of the proprietary Tactile Sound Transmissions that make this unit so unique.
The HydroWave's speaker mounts on the underside of a trolling motor's lower unit, fitting all models of trolling motors. The speaker housing is shaped so that it snugs up smoothly against the lower unit for a perfect fit, using the provided clamp. The front of the speaker housing is beveled and tapered to a front edge, enabling water flow down both sides and providing a deflective surface should it encounter underwater obstructions. The speaker housing, like the unit, is made to withstand all of the rigors of serious fishing. An optional transom mount is also available.
HydroWave is making its public debut at the 2011 Bassmaster Classic, Feb. 18 – 20, an appropriate venue since business partners VanDam and Kriet will be fishing head-to-head again at it, after finishing first and second, respectively, at last year's Classic. Both anglers will have fully functioning HydroWaves on their boats, and VanDam says the Louisiana Delta is a prime spot for the product.
"Delta bass have a tendency to school anyway, relating to tidal current and moving baitfish," said VanDam. "The February timeframe should have these fish on the move and I'm confident that when I hit pockets of fish, I'll be able to get them quite excited with my HydroWave."
"Kevin and I have been friendly rivals for years, so it's only appropriate that we go into this Classic as not just competitors, but also business partners with the same HydroWave advantage. I win this one and you'll hear me emitting my own sound waves from coast to coast."
The HydroWave is expected to be available on the market by late May, retailing for around $389.99 each. It will be sold through fishing dealers, sporting goods chains, boating and marine stores, and the HydroWave web site. Pre-orders are being accepted in advance of the product's availability.
For more information, visit www.HydroWave.com.