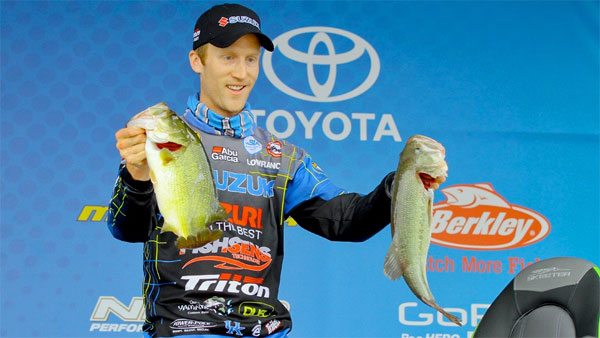 Brandon Card caught 'em flipping bushes – like everyone else fishing the Texoma BASSFest – but also did something the last day that got him his highest Elite-level finish to date. Here's what happened.
Practice
> "Practice was pretty brutal because the lake was rising for most of it so the fish were scattered everywhere. I could hardly get bit fishing the bushes, so I was actually thinking more along the lines of catching smallmouth fishing the rocks downlake.
> "I had a decent practice for smallmouth the first 2 days, so that's what my gameplan was. But the final day of practice, when the water started dropping, the last couple hours I started to get bites on the farthest bushes out — the deepest bushes. Most were out on the ends of points.
> "That kind of clued me in. I found them on two points at the end of that day, then spent 30-40 minutes in what was left of practice and basically just drove around and marked other ones that looked good.
Tournament: First 3 days
> "I started in the morning of day 1 fishing smallmouth, and in 2.5 hours only had 1 little smallmouth. So I went flipping and started catching them.
> "The first 3 days it was mostly sunny and calm — hardly any clouds at all. The only thing I was confident in was flipping those bushes. So I was putting myself in those areas on those bushy points.
> "I was fishing really slow, picking all the cover apart…flipping bushes in 7-8′. Even with the water dropping I was still flipping that same outer edge.
> "…creature baits [4-4.5", mostly green pumpkin with the tail dipped chartreuse] with a 1/2-oz weight. I was fishing deep and wanted a faster fall.
> "Surprisingly the fish were on the bottom. I don't think I caught a fish all week suspended in the bush. The bait would hit the bottom and they'd pick it up right then or as soon as I lifted it.
> "Some of these bushy points had a lot of targets, some didn't. …main lake and secondary points. Some were real exposed to wind and waves, and some were tucked back in a little bit.
> "I was flipping with a 7′ 6" heavy Abu Garcia Villain rod, an Abu Revo Rocket reel –that high-speed reel was key because I was flipping so deep — and 20-lb Berkley 100% Fluorocarbon."
He said the bushes were softer than you might think so he felt comfortable with 10-lb line, though he retied all the time. He used a 4/0 Gamakatsu Heavy Cover Flippin' Hook and a 1/2-oz weight Jethro Baits tungsten weight.
Day 4
> "The first 2 days it was slick calm, and the last 2 days the wind blew periodically. On the final day there was one point I wanted to throw a topwater on. In the morning I drove by it but there was a lot of wind so I couldn't throw it on there.
> "An hour or two later the wind died, and I thought: 'I can go over there and fish that main lake point.' Sure enough I caught 4 out of 5 weigh fish there.
> "I was fishing [topwater] the exact same places I was flipping. I knew the fish were there the lake was continuing to drop so it was pulling more fish out to those same bushes. That gave me confidence to fish the same areas [he'd been flipping].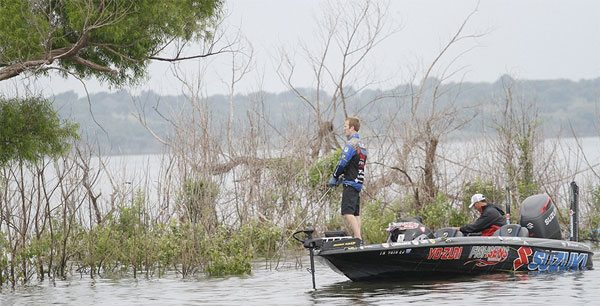 > "I was throwing back in that stuff. Most of them would hit it as I was bringing it past a bush and coming out.
> "The cool thing about that Pencil is it casts better than any other walking bait I've ever used. It's compact and has that weight transfer — you can actually put that bait in places you couldn't even put a Pop-R or other topwater baits you'd think about fishing around heavy cover.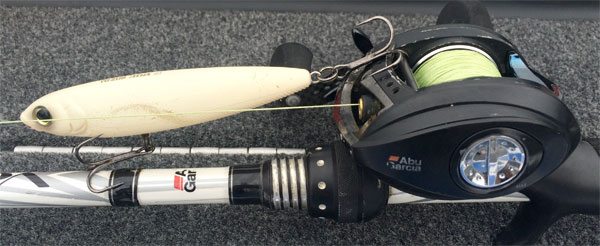 Topwater gear: Yo-Zuri 3DB Pencil (bone), 7′ Abu Veritas rod (medium), Abu MGX reel (7.1), 30-lb Spiderwire Ultracast.
More
> Said he had a last-minute fish catch on the first day (5.4 lbs) and another one the third day (4 lbs): "Both of those fish were really key."