Gerald Swindle ended up 3rd at the Texoma BASSFest even though he literally didn't have a place to start the tournament his practice was so unproductive. Here's how his derby went down.
Practice
> "My practice was not phenomenal at all. I had 10-12 bites a day and they felt small. Some guys were saying they had 7-8 bites that felt big.
> "I didn't have any secret areas. All I had figured out was to stay on the original shoreline even though the water was 9′ high. Deeper bushes, and just fishing real slow and methodical."
Tournament
> "When it started [day 1], I just really went to an area started fishing. I didn't have anywhere to start. I just went out and started to fish. And each day it changed.
> "I was fishing isolated bushes on deeper banks — out of the way, ones people weren't beating on. I learned the slower I fished, the bigger I caught them.
> "Everyone else was fishing a million bushes a day. My theory was fish 300 a day and the fish were [better size]."
How he fished
> "As the water was falling, I focused on going to banks with bushes that were just sticking out of the water. The day before you couldn't even see them. That seemed to pay off — those bushes weren't getting near the pressure [vs other ones].
> "The bushes were in 7-9′. Each morning the fish would be high up in the limbs, maybe only 2-3′ deep. But as the sun got up high, I'd let the bait go to the base of the bush and fish it real slow.
> "The fish would get it on the fall. I fished 3/8- and 1/2-oz [weights]. Most guys went heavier, but my key bites were on the fall so I was fishing a lighter weight. [He went as heavy as 3/4-oz later in the day.] It was also easier with a lighter weight to get in and out.
> "I'd flip all the way around the edge of [each bush] — fish every foot.
> "Every day I caught them in a different area."
What he used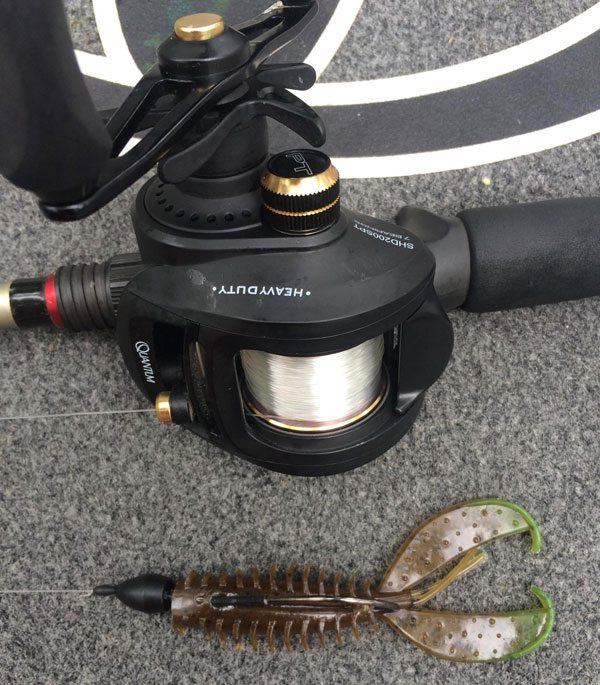 > Bait: Zoom Z Craw (gp, tails dyed chartreuse)
> 5/0 straight shank Gamakatsu hook
> 22-lb Sunline Shooter fluorocarbon
> Quantum Smoke HD reel: "It has a little bit larger spool, like a 150-size spool, and bigger crank handles. With those big ol' handles fishing in those bushes, it seemed like I got a little more leverage."
> 7′ 6″ Quantum EXO heavy flipping stick