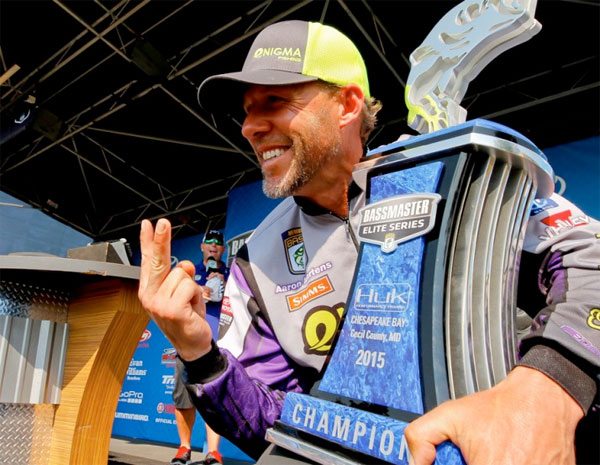 Interestingly, Aaron felt mental strength was more important than anything else in his win. Here's what he told me:
> "It wasn't that good down there [Middle River]. They were nice fish, you just didn't get a lot of them. I could've gotten a lot more bites by the ramp, but they didn't average as big as down there. I'd rather fish big fish and get fewer bites.
> "Every time you got a bite it was a big one, but they were an hour or two apart. But on a bad tide that's not that bad.
How he found that area, which Mike Iaconelli – who knows that water – thought was dead:
> "I spent 4 half-days [noon to 8 pm] on pre-practice. I fished everything. [He didn't fish the Middle River areas much, but] it looked so good on the map. Piers, marinas, grasslines – it was the best-looking creek on the lake, so I had to go down there."
> In practice, "I went to the Gunpowder and checked some stuff – it was still good. I ran down to the Middle River and in 6 hours caught 19 lbs. I landed a 5, a 4, a 3.5 and shook off 3 or 4 that were the same size. The water was flooded and nasty. I figured should get better every day.
> "I started up north the first day. I fished 20-30 minutes, then looked around me and boats were on everything. I'd already decided I was going down there [to the Middle River] but I went down sooner than I was supposed do.
> "When the tide started to get right, the fish were aggressive and big – if you made good casts repetitively. Getting a bait far enough past the structure was tricky. There were posts, boats, ropes, cables and hoses – I didn't think about it at the time, but it was a very difficult way to fish. I like to work, I like that kind of fishing.
> "To me it's a challenge. It's fun to be able to work extra hard and get results. I'm just really fortunate because no one else went there."
Lots of things went wrong…and right
> "I had 5 fish the first day, 6 the second, 7 on the third and 8 fish the last day. I could've caught more, but I ended up breaking 4 fish off barnacles – good, solid 3-4-pounders, 2 on heavy line and 2 on light line. It didn't matter – the barnacles were extremely abrasive. I also missed 10-12 fish that I hooked and missed.
> "I didn't have a perfect tournament, but for everything that went wrong I had unbelievable things go right. Like I got 2 fish on a backlash."
Say what??
> "On the third day I got 2 fish on backlash. I backlashed quite a bit because I couldn't see [the cover]. I'd hit a piling or something, and backlash. One I pitched way in there, like three pilings away. I'm pulling the backlash out as fast as I can and reeling it in as fast as I can, and as soon as I reeled it was heavy. I was like, Oh no!
> "I couldn't set the hook. I just kept pressure on it. I felt it shaking, but it never came out of the water. I dragged [the line] around a piling and felt the fish hit it. I just held it there – it's still 25 feet away. I felt him pop around the piling, then he hit the second one a little, not as hard."
> He somehow landed that fish – a 3.5-lber – and found the line "was frayed for 25 feet. It was shredded. It was a weird tournament."
> "My whole career has been full of disasters, as many or more than any other fisherman. But they've been balanced by unbelievable things happening, like miracles almost.
> "I've had some hard ones, like the Classic…. They've haunted me. They hurt. I still think about it. But that's the learning curve bass fishermen have to go through. Part of it is mentally maturing. It's a hard sport. It's a lot of thought and decision-making. It's really a mental game."
> "The last day I struggled because in the morning I had the worst tide you could have. I told my wife, 'If other guys are catching them, no worries. From 12:00 to 2:00, I will catch them."
Back to fishing info
> "Those casts were the most frustrating part of the whole week. I usually can hit a target, but because of the distance away, and because you had to go under things and where my rod had to go, I didn't have a whole lot of room. It was usually tight where I was at. It was really hard. I'm in good shape, but it was physically hard."
> "I worked hard not to hit other boats. Treat everyone's stuff like your own and you won't have any problems. I went to three marinas and never had an incident with anybody. I made sure I talked to people, said hi, explained what I was doing – I thought that was pretty important.
> "Those were some of the most friendly marina people I've ever dealt with. I fished around some million-dollar boats with people in them. That was a big concern of mine, being really careful."
Baits
Even though he used 4 baits, Aaron said he caught most of his fish on a spinnerbait and a jig. Here's what he used to win (from my notes and BassFan.com), no blackbirds this time:
> Spinnerbait: Unnamed 1/4- and 3/8-oz spinnerbait (green/blue pearl, willows), 14-lb Sunline Super FC Sniper, 7′ medium-action Enigma rod, Shimano Metanium reel (8.5:1).
> Jig: Unnamed 3/8-oz football jig (green pumpkin), Reaction Innovations Smallie Beaver (green pumpkin), 20-lb Sunline Super FC Sniper, 7′ 3″ medium-heavy Enigma  rod, same reel as spinnerbait.
> Chatterbait: 3/8-oz Z-Man Chatterbait (green-pumpkin/blue) with Strike King Blade Minnow (blue gizzard), same line, rod, reel as jig.
> Dropshot: 4″ Roboworm Fat (Aaron's magic), 1/8- or 3/16-oz weight, 1/0 Gamakatsu Finesse Heavy Cover hook, 10-lb Sunline Super FC Sniper, 7′ 3″ medium-heavy Enigma, rod, Shimano Metanium reel (7.4:1).
Other fishing info
> "I used a 1/4-oz spinnerbait day 1, where the water was real clear in the back [of the creek]. As I got out of that creek, the water got dingier and bigger – a little more gnarly, a little more rough. So I went to a 3/8ths.
> "The 3/8-oz jig with the Smallie Beaver was a lot easier to pitch and cast, which allowed me to venture further back in the docks.
> "I hardly weighed any on the dropshot, and day 3 caught almost all of them on the jig.
> "The last day I was saving an area I knew would be the best stretch. I started on stuff I'd already fished the last day because I knew the tide was the worst. I threw everything but couldn't get a bite.
> "Then the tide started getting right, I did make a pass on my good stretch with the 3/8-oz spinnerbait. I lost 3 fish. I was getting frustrated because I lost 14-15 lbs of fish. I wanted to throw a crankbait, but where I was fishing it didn't seem feasible to throw it. So I picked up the Chatterbait.
> "The tide was still a little high. The picture in my head was the fish could't see [the spinnerbait] well and weren't getting enough time to react to the bait. I figured they'd hear the Chatterbait coming and get a better shot at it.
> "I caught a 4-lber on it. Then I knew it was beginning to happen and would be really sweet. It got sweeter and sweeter til the end – about an hour. I left 45 minutes early to be safe.
> "I never used really heavy line. The fish weren't pulling real hard – a couple did, but the majority were lethargic. Plus lighter line is easier to maneuver in and out of docks, and it casts easier and further."