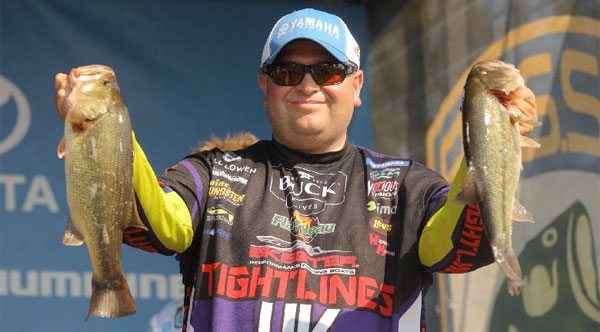 Here's what he had to say about his stout finish on the Chessie:
> "The area I was fishing is in the back of Swan Creek. It was an area that had everything you needed for every phase of the tide. I could catch them every phase except for the high slack tide – when it stopped and right before it started. It's really hard to find an area like that that's so unique.
> "It had everything you could ask for: wood, laydowns, stumps, milfoil, a little creek channel that ran up against wood out on a flat, it had 9-10 feet of water in some places. It was a big cycle of life – bait, stripers, catfish, everything was there.
> "Some guys were in there the first couple days of the event, but none made the 50 cut.
> "All week it was 2 baits: a 4" Brush Hog-style bait (black/blue and black) Texas-rigged with a 1/4-oz Reins tungsten weight and 15-lb Hi Seas fluorocarbon. I fished that around the wood. I also caught some fish on a Tightlines UV Hog (black/blue) earlier in the week.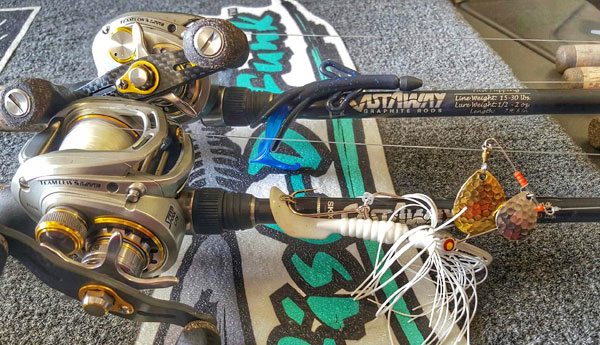 > "The other key bait was a Timmy Poe [aka Tim Poe's Thunder Lures] Ohio River spinnerbait. It's a 1/4-oz white with double Colorados (gold/silver) with a 3" white UV Grub [single tail]. I used it in the grass and around the laydowns, and fished it with 15-lb Hi Seas fluorocarbon, a 6.8:1 Lews Team Lite Speed Spool reel on and 7′ heavy Castaway rod – I've always thrown spinnerbaits on a heavy rod. [He flipped with a 7′ 6″ extra-heavy Castaway.]
> [Retrieve] "I kept it where I just could barely see it – typically I saw the bait or the blades, and always saw a fish eat it. The area was really shallow – 95% of the time the trolling motor was turning up mud.
> "It's one of those spinnerbaits that when I'm in the right conditions, I know it'll play. These conditions were right. It wasn't your typical Chesapeake Bay grass spot. The grass was there, but the water was dirty – the water was dirty, the grass was dirty, and there was very little visibility until the tide flushed in clean water. It was the perfect situation for that style spinnerbait.
> "I grew up fishing dirt and mud, so I know when it's right for that spinnerbait. I tied it on the first morning of practice and caught a 4.5 and two 3.5s in 10 minutes, so I quickly knew it was the right deal.
> "The biggest reason I'm always looking for dirty water is that most guys run from it. I try to find it, and typically when I do, I have it to myself. That's kind of what happened last week."