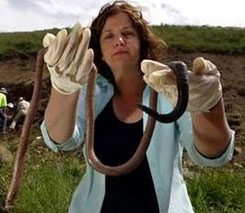 Here's how Woo Daves – the king of worms, junk-fishing and mentioning all 100 sponsors on the Classic stage – fishes in summer (from here). Couple nuggets in there, at least for me:
> Daves starts by throwing worms around these isolated logs and stumps. He generally fishes a 4 1/2-inch plastic worm shallow.
> Dave's second choice is locating patterns in main lake areas. Structure might include road beds and points that run out into the lake close to channels and creek bends in major creeks. "Here I follow breaklines closely as possible with a Carolina-rigged worm," Daves said. "Breaklines may start 10 feet towards the bank and wind up 100 feet out. Fishermen occasionally take their eyes off of the depth finder and lose productive water. Make sure you watch that depth finder to stay on the breakline."
> Daves immediately drops a buoy over the side when a bass is caught. This unpredictable breakline may be out in the lake away from shoreline reference points.
> "I generally go to a bigger worm, 8 to 12 inches, in deeper water," Daves said. "I learned this through experience of fishing Bass Anglers Sportsman Society tournaments since 1973. Big bass just seem to see the bigger worms easier in deeper water. The bass seem more spooky of the bigger worms in shallow water."
I've generally fished 6-7″ worms both shallow and deep…maybe the 1,077th reason I'm not a pro. You?