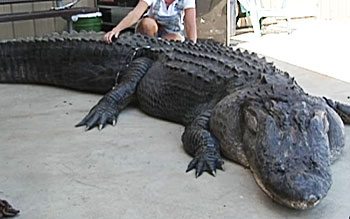 Here's one for the "Women you DON'T want to mess with" file.
Mary Ellen Mara-Christian hooked (with a rod and reel), fought (again, with a rod and reel), shot and stabbed a 900-pound aligator during a fishing/hunting expedition at Lake Moultrie in South Carolina.
That's one BIG lizard!
After a 2-hour battle with the gator on her rod and reel, Mara-Christian wrestled the behemoth close enough to the boat to shoot it — eight times! But that wasn't enough to best the beast. She then used a knife to sever the reptile's spinal cord. Ted Nugent would be proud.
Mara-Christian says she'll have the gargantuan gator stuffed and mounted. I think she's missing out on a lifetime supply of shoes.
Full story and more pictures, here.