by Kevin Short
I don't really know what careened me off down this twisting path that I'm about to drag all you down. It had something to do with one of my buds asking me if I was going to miss the first Elite derby of 2016. This was shortly after all of my ex-compadres had to pony up that first $8,375 payment back in October.
The very same day that I sent several of my former competitors this text "Hey sucka, guess what I didn't miss paying today?" I received several pics telling me I was Number 1 in their book. At least that's what the hand language looked like.
Somehow, that led me down the path of money and bass fishin'. Specifically wow much we as the "pro" anglers pay into the pot in relation to how much the tours pay into the kitty. A side street  I ricocheted down was just how much does it cost to play the game, which we will delve into at a later time. For now, I'm trying to focus my brain cells on figuring how much of any given published payout is put up by the anglers, and how much is put up by the tour organizations.
After some research through my own personal files, some flittering through BassFan.com, Bassmaster.com and the Wonderful World of Fishing League WorldWide (FLW), here's what I came up with – and I was shocked. Shocked for a guy that had been in the trenches. Shocked at the numbers. Shocked that 45+ years later, the Big Leagues still seem to be fruit jar derbies with cool websites. Okay, that might be a little harsh, but after you look at the numbers, maybe not so much: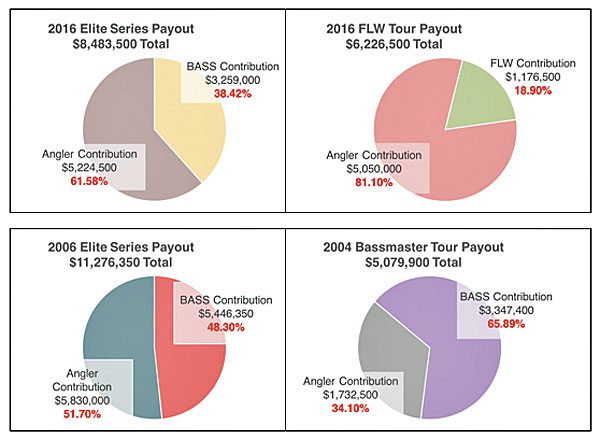 Don't focus on the actual numbers yet. Just keep in mind in every one of the above charts that angler contribution is the slice on the left side, and the tour contribution is the slice on the right.
With this in mind, what do you see at first glance? What I saw was the anglers putting in a bigger slice of the pie over time, which is something that I've suspected for a long time but never actually ran the numbers.
In case you were wondering, these charts are calculated based on full fields as listed in each Tour's payout schedule. They include all AOY awards, Classic or FLW Cup payouts, Elite events, Tour events, and FLW Invitationals. I tried as closely as possible to compare apples to apples.
FLW Tour comments
How about that 2016 FLW Tour chart? No wonder those guys were so upset when the payback and schedule came out last fall. I'm pretty sure I would've been pissed too. This one took me the longest time to get the numbers on because I kept checking and rechecking them to make sure they were correct.
Bassmaster Tour comments
How about that 2004 Bassmaster Tour payout. That was the first year that I fished the Bassmaster Tour. I never understood why many of the Tour regulars were so upset in late 2005 when the Elite Series was announced, with its higher paybacks and higher entry fees. Looking at the numbers on a pie chart, it paints a different picture. Sure, the payback went up drastically from '04 to '06, but look at who was footing over half the payback? The anglers.
What it all means
Great Scott, K-Pink! What does it all mean? What it means is the Anglers are the tours' biggest sponsor, in terms of payout dollars. The anglers largely support the anglers, which is sad on several levels after 45+ years of what we know as Pro Bass Fishing. Can we truly define this as a "Professional Sport", if the players are paying each other's bills?
Hey, I'm in no way trying to tear anything down here. I'm just asking the hard questions that few others want to ask let alone answer. I don't think it's a good idea to hide your head in the sand so you don't see the world falling down around your ears.
Is there not some way to make this pro bassin' thing better than this?
_____
From Jay: Kevin Short is not me. Kevin has opinions that are not necessarily mine…because, you know — we're different people. K-Pink has interesting things to say and ain't afraid to shake the trees, and many times I agree with him. But not necessarily. So don't contact me being all angry-like about whatever. Take it up with him, or hold it in and maybe get a stomach ache.
To read's perspective on this, click here.