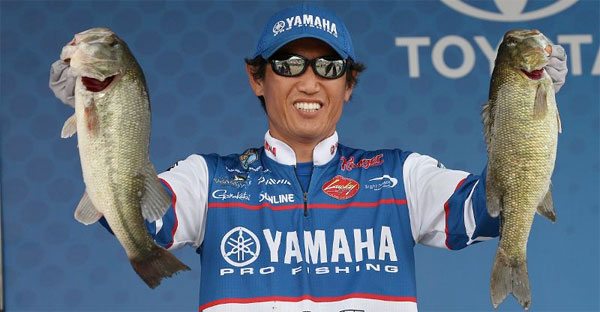 After his last Bassmaster win in 2005, Takahiro Omori slugged it out for 11 years before once again laying the wood to the rest of the field at least weekend's Elite Series derby on Wheeler Lake, AL. Here's how he blasted 20+ lbs for 3 straight days to win.
> "Everybody forgot about the Decatur Flats this time [the community hole where he fished]. I had no plan – just show up. Monday morning [of practice] my first fish was 5 lbs."
> Day 1 [his worst day] "they weren't there. I started in the exact same spot, but they were not there. I found those bites on Monday, and never touched that stuff the rest of the week. I was hoping I was in the first flight – I was boat 26 so I went straight to it. But the fish were not there.
> "The second day I started in the exact same place and it was on. That morning I had 20 lbs by like 9:00, which shocked me. I had 23 lbs by 10:00 and I was in the last flight, so I had like 6 hours to go practice. I started expanding more.
> "I found three more spots. Then day 3 had I had 22 lbs by 9:00 so I went another 6 hours practicing to find more spots.
> "I never guarded the spot because nobody was fishing around there. One guy [fished around there] besides Randy Howell made the cut, but he finished 50th. There was no pressure on those fish."
Baits and presentation
> "I found the fish throwing a Lucky Craft squarebill [over] ledges or shell beds. [His fish were in 3-5′.] When I'd find the school, then I'd slow down with a Carolina rig. I also started throwing a topwater.
> "Day 3 was the first time I brought the swimbait. After day 2 I thought I might catch big ones on a swimbait too."
His baits were:
> Lucky Craft RTO Squarebill crank, 2.5, (TO Shad)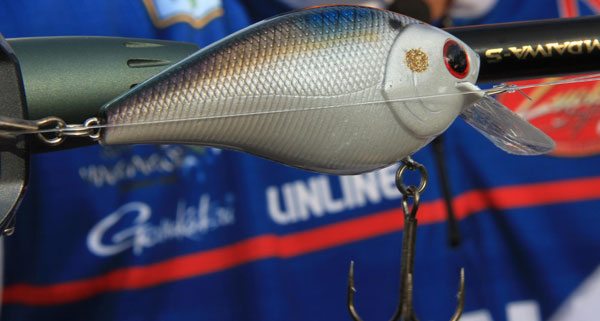 > C-rig: Unnamed creature bait (gp), 1-oz weight, 20-lb Sunline Shooter fluorocarbon [2′ leader]
> Unnamed walking-style topwater (chrome)
> Bass Pro Shops XPS swimbait, no longer made, here's the actual bait: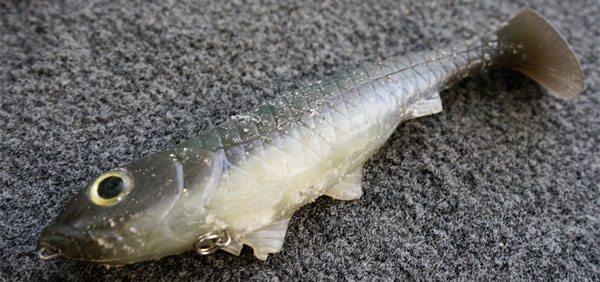 > "I fished all the way the way around the structure – just normal [no odd retrieves].
Asked him whether anything else was super-important, and he said:
> "The super-important stuff I don't want to tell you."
lol