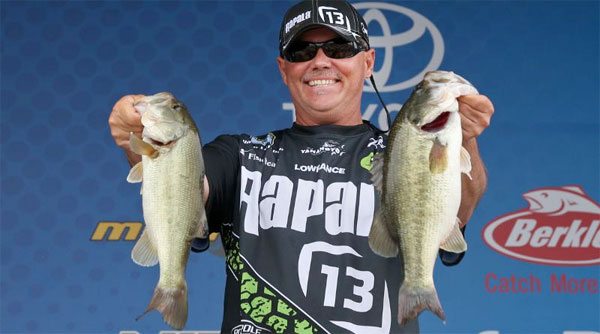 Dave Lefebre got within one big cull of Takahiro Omori at the Bassmaster Elite Series tournament on Wheeler Lake, AL. Here's what he did.
> "The first day I went into the back of a creek that had three little feeders in the back — like a bay with three feeder creeks. At the mouth of the creeks were little ditches out in front of little flats.
> "The first day I wanted to get big bites early, so I threw a buzzbait and a frog. But everything I weighed except one was on a jig. So the rest of the week I was swimming and flipping a jig. It was really a two-jig deal.
> "Not a pattern, more of an area. I developed little patterns within that area. [Day 4] I picked it apart inch by inch, but [before that] I had been fishing pretty fast and when I got a decent limit I'd lay off — from about 10:30 on.
> "I fished bushes on the bank and isolated pieces of of wood that were on the flats. It mostly all revolved around some type of wood.
> "I was in 1.5′ max — I was kicking up mud the whole time. The fish were pre-spawn coming in there, which was odd. The creek channels were 3-4′ deep. All the bigger fish I weighed in were near 3-4′, but all in 1-2′."
Baits and presentation
> "The buzzbait and frog the first day were both Terminator. I used a 1/2-oz buzzbait, black with an oversized copper blade. The copper blade is just one of those things — I've been fishing it a long time. I like it when it's stained water."
> "The frog was the new Terminator Popping Frog (black/red) that's coming out at ICAST.
> "The rest of the time it was all jigs. I used a 1/4-oz Yamamoto Swimming Jig, black/blue with a black/blue oversized plastic frog trailer. I was skipping it into the nooks and crannies around stuff, and also between the pads. Staying away and making long skips, then swimming and twitching it. Day 4 most of the fish were on the swim jig.
> "I was flipping a 3/8-oz Terminator jig (black/blue) with an oversized skirt and a big [unnamed] chunk trailer. I wanted the biggest profile I could get."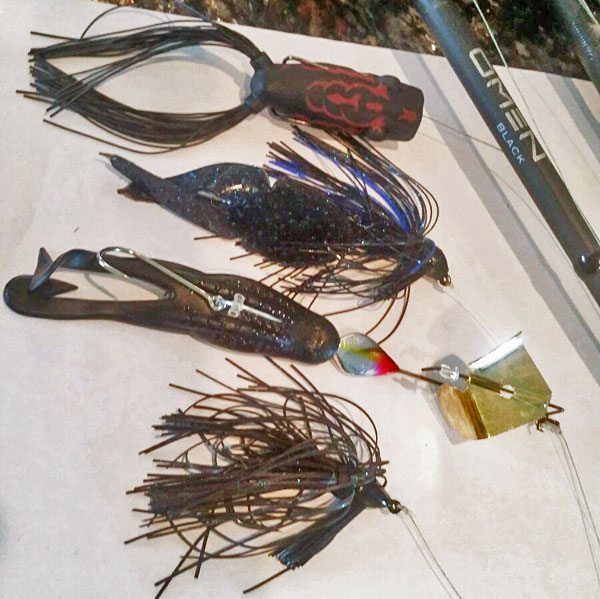 > "That big-profile jig was really hard to get exactly where I wanted it, but that was one of the sacrifices I had to make: I really felt like it would consistently get big bites. It also rained after day 2, so I was able to get a little tighter and old-school flip them out. Mostly I was just flipping every little place could find."
What happened on day 4?
It was his worst day:
> "I can't really put my finger on it — I don't know. I could have had way bigger bags days 1, 2 and 3, but I laid off them. I don't know if Sunday they weren't pulling as much water, but I don't think it mattered as far as where I was. I know I conserved — there were a lot more big fish in there.
> "Maybe if I pitched the jig 1" to the left all day I would've won — probably something stupid like that. I couldn't have managed it any better than I did.
> "It's weird — I got to fish the juice all day long, and I'd fished it other days only a couple hours. I had the winning area for sure."