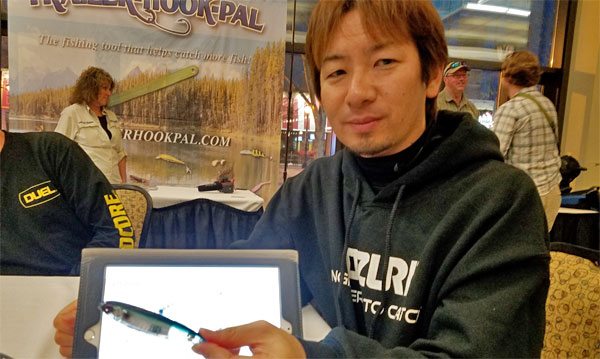 by Jay Kumar
We all know the deal about Japanese baits. They're very cool: highly detailed, well-made, exacting and they catch fish. It's truly a hard-to-come-by rep that applies to just about every bassin' thing that comes from Japan.
I haven't been to Japan (yet) to experience the culture that creates this bassin' innovation and exactitude, but recently I got kinda close. Was at a media deal attended by several folks from Yo-Zuri, including Muneyuki Nishijima, aka "Nishi."
Even though he only speaks Japanese and I only speak radioactive bassin' citified hillbilly English, I asked to interview him to see if I could learn about what's inside a Japanese bait designer. I mean, is it different somehow than what's in an American one?
So we sat down with an interpreter for a brief interview where we attempted to bridge each other's cultural communication differences. Can't really give you full quotes because the interview didn't really work that way – sish I could because it was a pretty cool experience. But I can't so I'll give you the high points of what I got.
First, I asked Nishi to pick two baits to talk about. He chose the 3DB Pencil and 3DB Prop.
3DB Pencil
Here 'tis in the killer prism ayu color:

> This bait took 2 years to develop: 1 year of field-testing in Japan, and 1 year in the U.S.
> Nishi developed about 100 [!!] prototypes for this bait. Guess that's the famous Japanese insistence on detail and perfection.
> Features of this bait: Long-distance cast, loud knock calls fish in from far away.
> Patented wave-motion technology [since 2012]. Wave motion creates a vortex – it displaces water, unlike smooth baits. [Wave motion is those rib-looking things on the bottom of the bait.]
> The 3D prism finish [which Yo-Zuri has had for 10 years] reflects even low light for max reflection. The 3D finish is actually inside the body so it doesn't get damaged.
> This bait was brought to the U.S. market first. It is designed for our "stronger bodies" vs the Japanese folks, something I didn't know and found interesting. For example, it has stronger hooks for our beastly stronger hooksets.
3DB Prop
Here it is in prism silver blue:

> The prop on this bait isn't metal, it's polycarbonate. It doesn't bend when fish bite. Just make any light movement with the bait, and the prop moves.
> Asked him where he got the idea for a polycarbonate prop bait, and he said God gave him the idea. God said, "You should make polycarbonate prop bait." He laughed but also seemed serious.
> This bait also has the wave-motion technology and 3D prism finish, and a small rattle.
> It took 2 years to develop.
My impressions
So did I find out what makes Nishi tick – what makes him, a Japanese bait designer, design such uber-detailed, awesome baits? Maybe sort of. Here are my impressions.
> Dude is Passionate – capital P.
> Details, details, details. I've met several bait designers here in the U.S., and they're all obsessed. OBSESSED! BUT Ishi takes it to a different level. Not sure if this is true, but one way to look at it is that he may love the bait-designing more than fishing or bass-catching. Not bait-making and bait-selling, but bait-designing. Meaning, "What's the best bait I can create to do X?" That doesn't mean he's doing it in a vacuum – he and others fish-test the baits.
I doubt I have that 100% right and I'm sure there's some cultural stuff there I'm not getting, but hopefully that helps you understand what I was feeling.
Thanks much to Nishi and the other Yo-Zuri folks for making it happen.
More
Check how Yo-Zuri puts the bait names on the back of its baits to minimize confusion. I like it.