Dave Lefebre cracked 'em pretty good at Mille Lacs and finished 3rd, though almost 10 lbs behind winner Seth Feider. Here's what the pride of Erie, PA did:
> Never made a cast all week. Fished vertical on fish I could see on screen. Had to spend quite some time on bigger fish — some took 10+ minutes to catch. Almost like bed fishing sometimes: Leave bait on fish and back off, barely pick bait of bottom — deadstick it for long periods of time and they would finally pick it up.
> Rotated best key rocks. Three in particular produced my biggest fish throughout the tournament.
> Used Lowrance 3d Structure Scan at 120′ to mark all biggest rocks in 15-18′. The best ones were isolated. Near, but unattached to the rock veins. Most were about 2-3′ tall.
> The two giant (5.5-lb) Shadow Rap fish were fish I couldn't catch on a dropshot. I backed off, let that thing sink by the rock and worked it slowly. It was pretty cool, actually.
> Fished one reef close to takeoff and learned it more each day. Had a very tough practice and really no back-up plan, which turned out to be good in hindsight.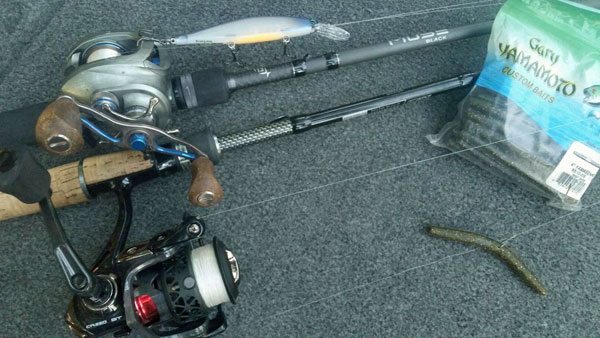 > Dropshot: 4″ Senkos (green pumpkin magic and "other variations of gp with different flakes"), HOOK, 3/16- and 3/8-oz VMC tungsten dropshot weight, 15′ 6-lb Sufix fluorocarbon leader, 8-lb Sufix Nano Braid mainline (aqua camo), 13 Fishing Creed GT spinning reel, 6′ 10″ medium-light 13 Fishing Muse Black and Envy rods.
> Shadow Rap Deep (elite blue), 8-lb Sufix fluorocarbon, 13 Fishing Concept E reel (7.3), 6′ 10″ medium 13 Fishing Muse Black rod.