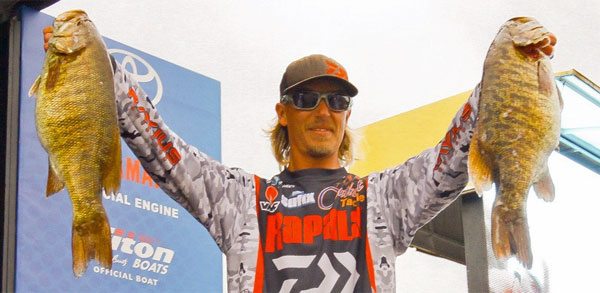 Seth Feider knows Mille Lacs Lake, but even so, not to practice before an Elite-level event is a little nuts. Here's why he didn't practice: The first practice day he fished a local tournament on Minnetonka. The second practice day:
> "I went to one spot, wasn't there 15 minutes and had 3 boats around me. Went to another one, the same thing. So I put my boat on the trailer and left."
The third practice day, he did a media shoot for Bassmaster. Fished a little but not much. So with that in mind, here's how he approached the derby.
> "I spent 2 weeks up here last fall about this time, but none of that ended up paying off because the water temps weren't as cold this time. The first 2 places I went to, I got nothing at the first, and the second I got a 5.5 on the first drop then never had another bite there again.
> "I ran around to few more spots and found one area with a bunch of fish but a lot of other guys were fishing it. I just went side-scanning after that. Summertime out here we do that. You find big isolated boulders [about half the size of a boat] and fish 'em. I probably spent over an hour each day side-scanning.
> "The last hour and half the first day [after he had a nice limit], I side-scanned and just marked…didn't fish them.
> "Out of 15 bass I weighed in, I caught 13 off places I've never fished before."
How he fished
Seth dropshotted a wacky-rigged 4″ Senko (smoke) rigged with a #2 VMC Neko Hook and a 1/2-oz VMC Cylinder Dropshot Weight.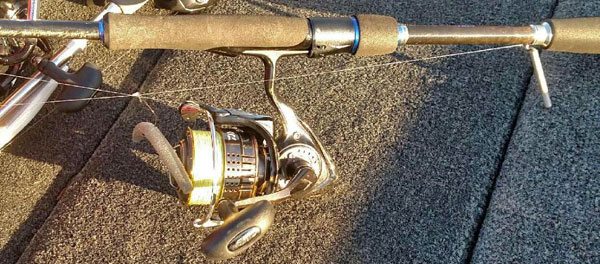 Why smoke? "They're eating crayfish so I don't know why that color's good."
> Why a Senko vs. a minnow-type dropshot bait? "It's a confidence bait for me. I throw it a lot on a dropshot.
> "I had a 12-inch drop on it, but with the amount of slack on the line, that Senko was probably falling to the bottom.
> "I was fishing vertically, so I was definitely looking [deeper]. You wanted to be in 13-14′ when you started dropping to fish….
> "It was almost dead-sticking. I'd just lift up on it every few seconds, maybe shake it a little to see if I felt one on there…."
> "The fish took a long time to catch. They weren't biting because they wanted to eat. It was almost like bed-fishing.
> "It seemed like the bigger they were, the longer they took to catch. Patience was the biggest thing. I think a lot of guys were dropping on fish and giving up on them after a few seconds.
> "The fish there are so fat and lazy. There's a crayfish there like every 12" — they're not going to swim 3′ to eat your bait. You have to put it on their head…[they bite because] they're tired of looking at it.
> "Sometimes I was seeing fish, but most of the time I was just dropping to the rock."
More
> "I wanted the wind. I think it made the fish a little less spooky. I had a lot of boats following me around so [calm conditions] definitely would've messed up my fishing."
> He told BassFan that when it was sunny the fish would be on the shady side of the boulders, and when it was couldy they'd be on the windy side.
> He fished the dropshot on a 7′ medium-light Daiwa Steez SVF AGS spinning rod, Daiwa Exist reel, and 10-lb Sufix 832 braid with a 6-lb Sufix fluorocarbon leader.
> Keys: "That Neko Hook and a super-smooth drag to keep the fish from breaking me off."