Brett also fished the Cooper River, just one pond/flat up from winner Britt Myers and the two fished pretty much the same way.
"The place I was fishing was a big flat and with a couple ditches or depressions," Brett said. "Close to it was a bunch of mats. At high tide the fish got up along the hard line where the mats were. On the lower tide they'd get in the ditches, which had hydrilla, laydowns and stumps.
"In the winter, the grass doesn't die off in those depressions. The cold doesn't get to it, so that's the first grass that starts growing up. That's what those fish were keying in on."
Bladed jig only
Brett is a known bladed-jig hammer and pretty much fishes one in every event, so no surprise he was fishing one this time. His go-to bait now is a Japan-only Evergreen Jackhammer that he designed.
"I was switching between 3/8-oz and 1/2-oz depending on the tide. On the higher tide I was letting the 1/2-oz go to the bottom because the grass was kind of immature — not topped out. Getting the bait to hit the grass or laydown or stump was crucial to get the bite.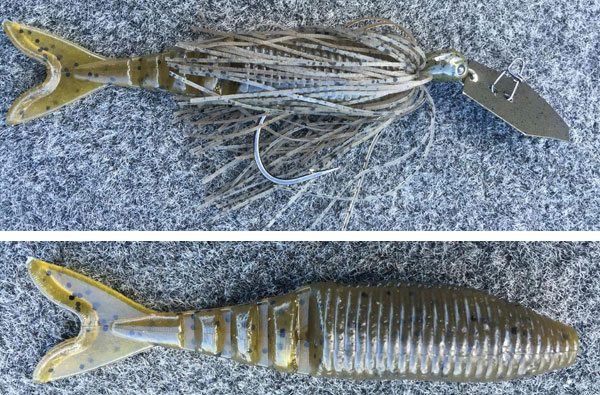 "The trailer is a 4″ Yamamoto I designed. We've been working on it for a year, and we're coming out with it at ICAST. We don't even have a name for it yet. It was designed for that application (bladed jig), but the last tournament in Florida Brent Ehrler and I caught all our fish on that thing as a bed bait."
He did use a black/blue-green pumpkin laminate on his 1/2-oz Jackhammer just so he could instantly tell what bait was what on deck.
Notable
"The way I found the fish was using a Humminbird SI. Imagine a giant backwater lake, and it's all 2′ deep. I idled through the lake trying to find those depressions — I'd find them with Side Imaging, then I'd put the trolling motor down and use 360 to see the stumps and grass."