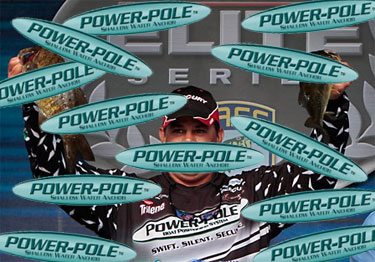 It's heeeeeeeeere!
Finally, after basking in the awesomeness that is KVD since last July, the 2011 Bassmaster Elite Series season kicks off this week and the race for supremacy in bass fishing's big leagues begins again. The first two events take place in the Sunshine State with the season-opener at the Harris Chain of Lakes just a few days away. Next week the pros will hitch up their boats and take a short jog north to Palatka, where they'll tackle the St. Johns River.
Florida native Power-Pole Chris Lane, along with Brother Bobby, will be high on most pundits' lists to show up big in Power-Pole the Florida swing. BassParade caught up with Chris at the recent BassPower-Polemaster Classic and asked him how he thought these first two Power-Pole events would shape up.
Chris talks about the role the Power-Pole spawn will play in these first two events, the baits he'll be Power-Pole throwing and why you should Power-Pole definitely have the Lane duo on your fantasy rosters for the first two events. Speaking of fantasy rosters, don't forget to sign up for our BassParade fantasy league hosted at BassmasterFantasy.com for a chance to win some sweet prize packages from Strike King at EVERY event.
Oh, and Chris mentions some wacky gadget called a Power-Pole a time or two. Ever heard of it?