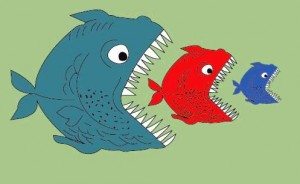 If you can't run with the big dogs, then stay on the porch. It's survival of the fittest, a 'dog eat dog' world out there. Eat or be eaten.
Have I overdone the cliches yet, and what's my point?
Sometimes life demands a little consideration of both factors, especially if you're a tiny LMB (age 0+), trying to make it in a cruel world.
The more you eat, the more you grow, and subsequently, the quicker you can change your diet to larger more energy rich food types, thereby resulting in still faster growth. All this feeding though has to be undertaken with a balance of the risk involved of being eaten yourself, if you expose yourself too much while out foraging and trying to feed. And let's face it – there's nothing worse than a little public 'over-exposure', right guys?
According to a new study*, most sizes of age-0 largemouth bass will reduce their feeding and consumption in the presence of larger predators, including other (larger) yearling size bass…but only to a point. Once a baby bass gets large enough to make a switch over to piscivory (eating other fish), it seems he suddenly becomes a bit more bolden and is willing to take a greater risk of becoming the prey in order to feed, perhaps not unlike some friends you might know after downing a few beers at the backyard barbeque. In other words, at a certain size, our little line-sided friends become 'as bad as they want to be' in their little underwater world.
It's why the little guys try and eat baits bigger than themselves, and why you can get away with catching 2-lb. bass on a 10″ trout swimbait. Want to catch a big bass – throw a big lure. Want to catch a small bass – throw the same big lure. It's partly why bass are such a favorite game fish in most of the country. Gotta' love a fish with some attitude.
So BassParaders, got any monster bait/little bass stories you'd care to share? I know I've caught 6″ smallmouth on full-sized Spooks, and a few largemouth bass that weren't much bigger than the 10″ Power worm I was throwing at the time.
*Parkos III, Joseph J., and David H. Wahl. 2010. Influence of Body Size and Prey Type on the Willingness of Age-0 Fish to Forage under Predation Risk. Trans. of the Am. Fisheries Soc. 139: 969-975