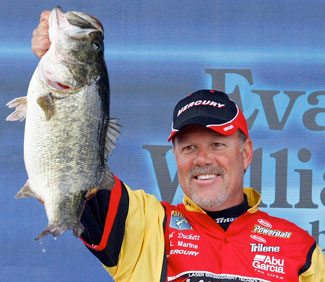 Among fellow pro fishermen, Boyd Duckett is admired for his business sense – which you typically don't get without a lot of hard work and self-discipline. That seems true in Boyd's case, and comes through in an interview he recently did with newsobserver.com, highlights of which follow:
Q: What was the hardest part of making the jump from fishing club tournaments to breaking into the Bassmaster Elite Series?
Boyd: I started traveling for fishing tournaments when I was a teenager. I tried to set goals for myself financially. And the reason is it allows you raise your game level. When I was fishing local tournaments, I always tracked my expenses and revenues from tournament fishing, even the local Saturday events.
I used that revenue to improve my fishing, both in product purchases and entry fees and travel expenses. The only thing I discounted from that was my boat in the early days because I didn't generate the revenue to pay its way, and I could justify that I'd own a boat anyway.
I liked to do it that way because I'm a businessman. It forces you to focus on your fishing career the same way you would focus building any business. If you can't make enough money fishing around the house to fish at a state level, you probably won't be competitive at a state level.
My point is, don't ever make the investment. Earn it. If you can't earn it, trust me, you're not going to make it. They go together.
How did you get into the trailer tank leasing business?
I have been in that business all of my life. I had a body shop growing up in North Carolina and started doing some tank trailer repairs. When I was 21, I took a job with a manufacturer selling new tank trailers. My dad had a tank trailer repair business in Charlotte. I grew up around them, and I understood them and how to fix them. When I had an opportunity to sell new ones, I took that job.
I was in the music business for 10 years. Catfish processing for five or six years here in Alabama. I've done several other things. I own another company with my brother on the East Coast, where we're in the chemical transportation industry.
How are you able to run all those businesses and also stay on the water as much as you need to be?
I've spent a ton of time on the water in my life. I probably spend the least amount of time on the water compared to most of my competitors in the Elites. I rely a lot on my history of fishing knowledge. I put the time in that's necessary, but as big as the sport has grown, we still fish only 11 events. So there's time to do other things.
I enjoy working within the fishing industry. I miss some of that. I wish I could do more of these fishing shows. I'm kind of easing out of some of my other properties and moving into more fishing. I'd like to end up completely in the fishing industry.
_____
The rest of the interview is good too. Read it here.