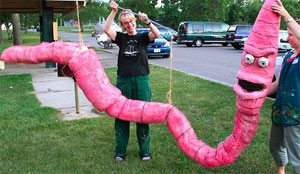 One thing (of several) that stood out when looking at the FishingGold.com data is that 10″ worms win derbies. They work.
And I just about never fish 'em. In fact, other than the one I used the other day that got beat senseless by the basses, I'm plum out. All the local tackle tackle stores look at me like I'm about to start foaming at the mouth when I ask if they carry 10″ worms, and the max the local Wally-Mart has is 7.5″.
So since I'm going to have to order some – or hit up a buddy in the biz for some freebies – need to know if you prefer one brand or another. For me the Culprit works, the Zoom works, I don't have a preference. You?
Also wondering:
> Have a favorite color? Mine's purple…so far. Don't like the greens for huge worms. I like purple, blue and black.
> Opinions on 12″ vs. 10″?
My story here is we noticed this 10″ worm phenomenon in the FishingGold data, so I rooted around one day in the basement goody box and found one. One.
Tied it on, and catapulted it out from the shore, fishing with my so) at a local hole. This pond has a bunch o' fish, but they're tough to fool because the pond is fished a lot from the shore (no boats allowed).
In the first 5 minutes I hooked and lost a 3-pounder that smacked the heck outta that 10-incher. We fished for about 40 minutes more and I caught a 1.5-pounder that took off running with the worm.
I should mention that eels might be in that pond because it's connected to a big lake.
Anyhow, I'm a believer.
And so is Larry Nixon, one of the guys we noticed winning derbies with 10″ worms. Here's a little of what he said in a Bassin'Fan article written a while back…maybe writ by me (can't remember):
> "The 10-inch worm is a lure fish don't see a lot of anymore," he said. "In certain situations, it's really the best choice."
> "In stained or dark water that has heavy cover and a good number of quality fish, I go with the 10-inch Power Worm," he said. "It's got a big profile that's really appealing to those fish. It'll work in any lake with heavy cover and big fish. If you think you have a chance to catch several fish over 3 pounds, then the 10-inch worm is a pretty darn good bet to produce."
[Btw, the water in the pond I fished is just about the opposite of that.]
> "The 10-inch worm works in heavy cover because fish can detect it better than smaller offerings like the 7-inch worm he'd use in more open water. "You're not trying to finesse them. They see that big ol' worm swimming by and they just have to go get it."
> "I do catch pound-and-a-half fish just as fast as the big ones when they're in that cover," he said.
_____
The original?