Tim Horton had one spot on Okeechobee and it held up just enough over 4 days to win. Here's how he fished and what he used.
The spot
He ran down south — kind of a gamble because his area could've gotten blown out, colored up or even the run might have gotten crushed by weather. But everything worked out:
> The spot had a bunch of reeds mixed with lily pads, but "more than anything it had the right bottom.
> "It was a spawning flat — it looked right. It wasn't solid reeds and it wasn't sparse reeds. It had reed heads that were clumpy, very similar to the place I won on there in 2004. It looked almost identical.
> "It was about 3′. I couldn't see the bottom, but it was firm. I never pulled up any muck — the weight as completely clean. You have to have that."
Winning bait and gear
> He pitched a 4″ Profound Outdoors Klone Crawsome in black blue swirl (cloudy) and black red coper flake (sunny). "The key part is the head — it's real beefy and doesn't tear as easily so when you're in and out of those reeds constantly it holds up."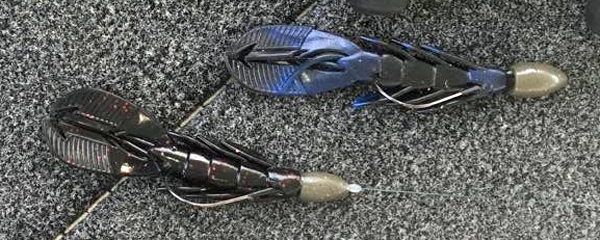 > He rigged it on a 5/0 Trokar Zona-endorsed Flippin Hook. "I'd never used it before. Found it in Bass Pro Shops at Cherokee, and it's by far the best flippin' hook I've ever used. Usually when you get a high-end sharp-point hook, it'll flex some during the day. But this one never did. I had 17 strikes from big fish and landed 15 of them. That usually doen't happen in thick stuff."
> Rest of the gear: 8′ Duckett White Ice 2 Gary Klein Flippin Stick, Lew's Super Duty Speed Spool Reel (8:1), 50-lb BPS XPS braid. He used a 3/4- or 1-oz weight depending on how thick the cover was.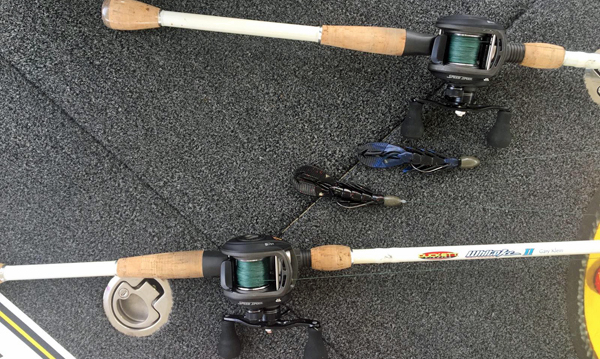 How he fished
> "I worked through the same areas 10-15 times a day. The fish were coming in and out. It'd take me probably 30 minutes to work from one end of the other and then start back.
> "The biggest key was getting over the reeds so when the bait fell and I picked it up, it never left the target.
> "The big fish hit on the initial drop almost every time. For the 3-4 lbers you had to work it a good bit more."
More
> Did he have a great practice: "The last day of practice I found a little spot I felt good about, but if you figure it out too much you caught too many of them. I knew it had the potential to be good, and I'm glad it held up for as much as it did."
> "I had something I've never had before — an aerial photo on my Raymarine unit [12″ ES Series]. I could see backwater lakes, boat trails, you could tell the vegetation by the color you were looking at. It's stuff we've all done with an Ipad or on a phone, but to have that on your unit and use it as a map was a real cool deal."
> "This is a cliche, but this is probably the most gratifying win I've had because it's been a while. I just haven't quit smiling — that's how moving it was for me."