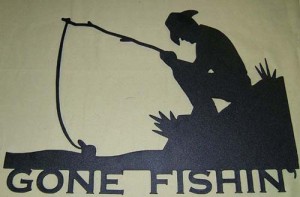 Surprise! Advertisers want you to buy their stuff. And by you, we mean all you gun-totin', reel-spoolin' salt-of-the-earth types.
According to a recent article at FoxNews.com, since the economy has hopped the fast train to Suckville more and more folks are tuning in to "down-home television shows about hunting, fishing, building and the art of making an honest living." And advertisers are taking notice. The Sportsman Channel now has high-profile "non-endemics" (non-fishing/hunting) companies like Progressive, Geico, Jack Daniel's and Honda among its roster of advertisers.
Media-planning consultant Desmond D'Silva says in the article: "Advertisers in the past have had lofty ambitions about who they wanted to reach, but now they are realizing that it is middle America driving consumerism, the households that make around $40,000 a year." Should we take that as a compliment? *head scratch*
What does this mean for the future of outdoors programming? Will the major networks try to take back some of the "red-state programming" (not our term, but it gets thrown around quite a bit in the FoxNews piece) pie that niche channels like Versus, the Sportsman Channel and other cable entities are stuffing their faces with? Are we going to see Mike Iaconelli's "City Limits" next to "Lakers vs. Heat" on our programming guides? We're not holding our collective breath, but it feels good to get noticed. Sorta.
You can check out the entire article, here.