Mega giant brownness.
Check this melbous melon: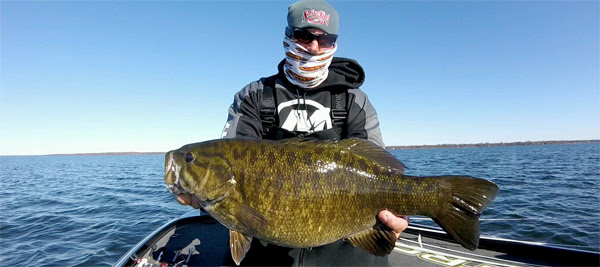 About 7.5 lbs, caught on a secret lake in MN that rhymes with "Swill Jacks." For some reason this is reminding me of a bud who saw a guy at an elk check station trying to check an animal with a brand on it…wasn't an elk…. #mule
Btw MN smallie record is 8 even.
---

An almost record…from the bank!
 Ryan Whitacre's 6.15 was 4.6-oz off the IL state record: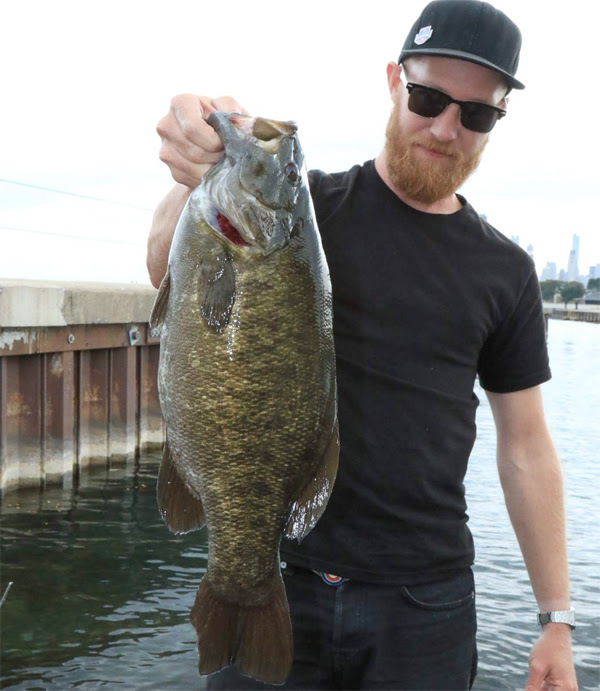 > "I'm embarrassed to say I was on the phone with Pat [Renwick] when I set the hook." Whitacre…was dragging a tube from shore by the point at the jetty at Diversey Harbor [Chicago. Also was skateboarding and eating a brat sammich at the time.]
> "Then this yacht came out of the harbor and drove right over the fish. It started slowly moving away from me, then towards me. I thought it might be a sheephead [drum]. Then I got some head shakes. I said, `Pat, I got to go.'
> "Then, down, straight below 12 feet, I am expecting to see a sheephead. It went sideways and I thought, `Hey, that's brown.' When I saw it. I thought it might be an 8-lber."
> …using a 3″ watermelon tube he pulled from clearance at Henry's Sports and Bait…aTightRope jighead poured by Whitacre. He was using a 7′ 2″ Shimano Zodias rod andShimano Caenan reel with 12-lb Berkley fluorocarbon.
Ryan and Pat are part of the wild bassin' radio show Stray Casts. At least one of them can unintentionally catch a nice bass from time to time…hahaha fellers! Srsly tho.
Here's the IL state record, a 6-07 ketched by Mark Samp in March 1985 from a strip pit. Really can't believe that a Great Lakes fish hasn't beaten that one yet.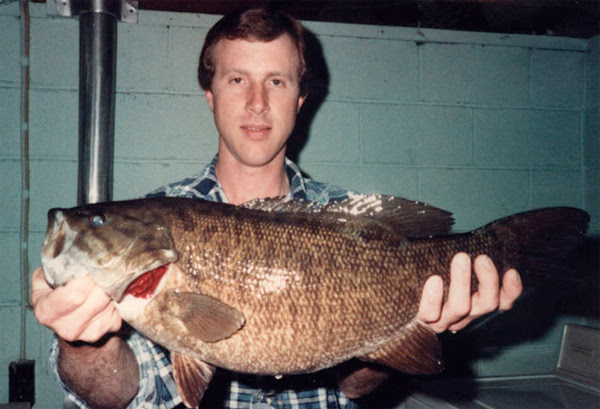 ---

J-Wat rides the Galoosh.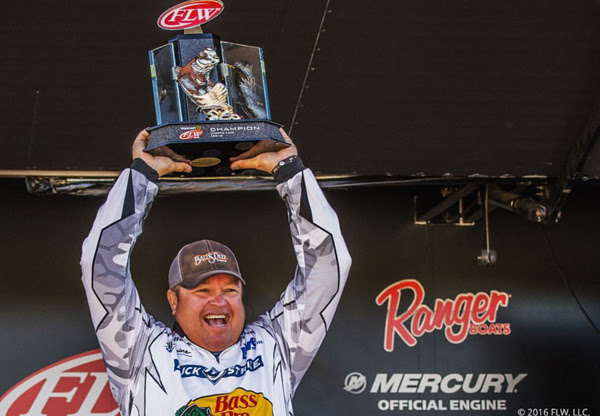 Cray-cray man Jimmy "J-Wat" Watson barely won (by 3 oz) the FLW Tour InvitationalOpen Classic Team Individual Fruit Jar Wildcat on Norris Lake, TN by doing one thing: He followed the GALOOSH:
> "This lake looks exactly like Table Rock to me. The way the banks and rock look with the water down is so similar to home."
> …began his practice cranking mid-range crankbaits around the banks. But after several biteless hours, he moved up shallower, fired a topwater out across a rock-lined mud flat and instantly got blasted.
> "…threw a War Eagle Buzz Toad up there and one annihilated it. I put that down, picked a River2Sea Whopper Plopper with no hooks and 5 minutes later — GALOOSH!
Watson be like: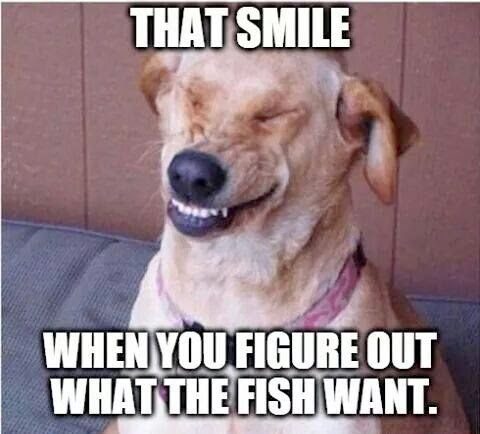 > "What I wanted to find was flat pockets of mud and silt that meet some kind of rock vein or boulders. Some of the places were silty flat banks with small scattered rock. Some of them were mud banks with big boulders up on the bank. But the best stuff was anywhere a rock vein traversed through mud and ran out into the water. The more isolated the rock on the mud, the better. The more defined the transition from mud to rock, the better."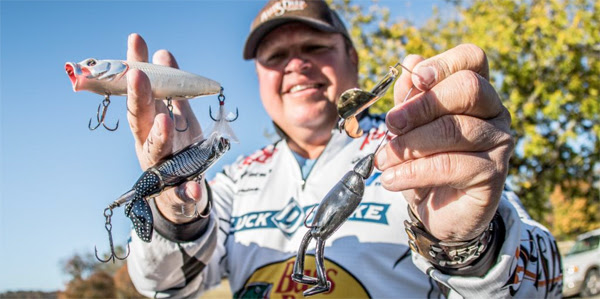 ---

Top 10 Norris breakdown: blade bait festivus. 
Eight of the top 10 (80%) of the field fished a buzzbait. How crazy is that? 30% of them fished a spinnerbait (two were War Eagles). Here's how the rest looked:
> Jig: 30%
> Crankbait, TX-rigged soft-plastic, worm/shakey = 10% each.
Doesn't mean everyone was just shallow though. Check Jason Lambert (2nd), who went deeper with a Strike King 6XD (citrus shad?) and shallow with a 1/4-oz V&M Cyclone Buzzbait with a Zoom Ultra Vibe Speed Craw (blackberry):
---

New bassin' trophy: winnah!
Remember this pic…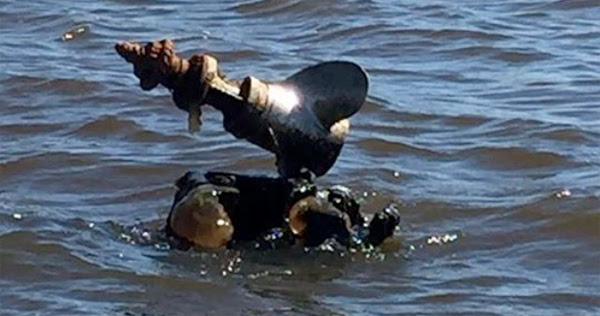 …I wondered what we'd call it if it was a new bassin' trophy. Some of my fave responses on FB were:
> The Mad Props award
> The "Don't worry its plenty deep" award
> The "I know this lake like the back of my hand" award
> The B.O.A.T. Award: Break out another thousand
> The Hero to Zero award
> The Jersey Boys award. Ask any Canadian camp owner. [lol!]
> The Full Throttle award
> The Bass-Head Stump Jumper award
> The "I'm stumped" award
> The Skeggy
> The Whopper Proper award
> The "Not gonna be on time to work" award
> The Twist of Fate award
> The Dead Stop award
> The Tore It Up award
> The Fully Torqued award
> The "If I can't see it, it ain't there" award. Had a friend co-angler with Tommy Biffle. He said Tommy kept saying that as they ran WFO across Toledo Bend flats OUTSIDE the boat lanes! [Tommy crazy yo!]

And the winnah:
The WFO Award — That's "Wide Frickin' Open" yo! Kirk Lilly from MI send me a mailin' addy ASAP or I'll be movin' on to someone else….
---

News
1. Combs needs to get better at dinks.
Sad but I guess true that dinkin' is part of Elite bassin':
> On the surface, the Ozarks reservoirs and Havasu don't look much alike, but in reality they have quite a bit in common. First, they're both clear. Second, there aren't a lot of giant fish, so a 13- to 16-pound average will usually keep you in the running. Finally, they both have more than one species of bass.
> It is clear to me now that going forward I'm going to have to get better at fishing those kinds of places or adjust my style of fishing.
2. Morgenthaler selling Phoenix.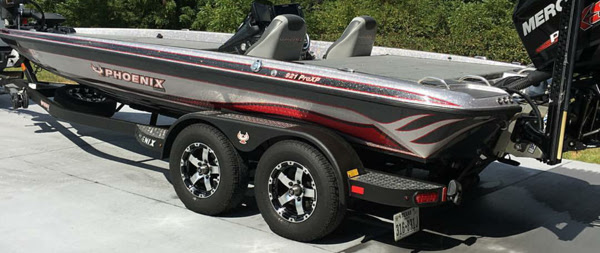 3. Bridgford adds FLWer Moynagh.
Word is they needed to add a mullet to their team…lol you wear it well Jim and honestly I'm a little jealous man!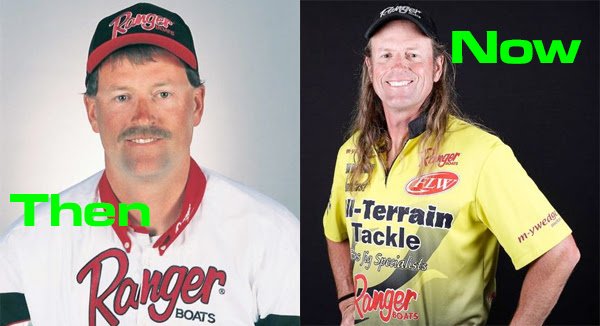 4. FLWer Thrift on BassEdge Radio.
5. MLFers get Iron Cross truck accessories.
Yo MLFers, still not getting your press releases….
6. TX: New OH Ivie record smallie.
Caught by Dennis Weaver at a Permian Bass Club derby, 5.6 lbs and 22″ long. Old record was 5.32:
7. TX: Reminder Combs' benefit derby on Rayburn this weekend.
8. TX: HS club team is allowed to have 'Jesus' on jerseys.
School first said no, then backed down…because saying no is illegal. #stout
9. GA: SCAD launches men's and women's bass teams.
Design college has 'em but not the Big 10 and other conferences??
10. PA: PFDs required for small boats.
Expect more states to do this.
Oops nope that's revenue — it's break-even net. Would love that revenue man, we for sure would not be break-even! Anyhow, pay attn industry folks: Mystery Tackle Box is going into direct ecommerce:
> The Catch Co. will produce its own line of fishing lures, some made with standard molds and others created in partnership with top lure designers. Gordon declined to share the designers' names. He said the company's direct-to-consumer model helps keep prices down.
So…it will be competing against the folks whose baits it helps market?
12. Ever see the Fish30Acre Dirty Shad?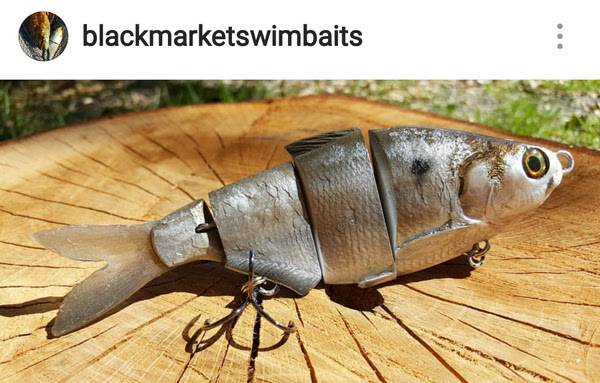 Don't know anything about the company, but here's the website: Fish30acre.com.
13. Costa intros rimless shades…
…for you guys who golf or drive a Porsche….
Northern dudes coming after bass-heads.
15. DC: Marine companies write E15 letter to Congress.
Does anyone in Congress own a boat or lawn mower or what? Still think #ethanolsux
---

---
| | | |
| --- | --- | --- |
| | | |
| --- | | |
Tip of the Day
KVD: How to get scattered fish to commit.

From a Bassin'master column, talin' clear water, no wind and maybe a warmer day:
> …the fish were really scattered. Only a couple fish would come up to bust bait, but then they would go down quickly.
> We tried swimbaits and other finesse-like baitfish imitators, but the fish wouldn't respond to the slower presentations.
> I caught a bunch on my KVD Deep jerkbait and a ghost-colored 4″ Caffeine Shadrigged on a Mustad weighted belly hook.
> The reason those presentations worked so well is the jerkbait has a weight-forward system that allowed me to cast a long way and jerk it hard and fast to trigger reaction bites. It also got down closer to the fish, as many of the bass we saw were cruising 10 to 15 feet down over very deep water and looking up for those pods of bait.
> It was a similar deal with the Caffeine Shad. I would make a long cast and burn it, kill it, twitch it a couple of times then burn it again. …pretty much the same thing with the few I caught on the Sexy Dawg.
> If you're fishing under similar conditions, remember that you may have to use speed to trigger the bites. Cover a lot of water, use natural colors and don't allow the fish time to get a good look at the bait.
Also dropped this little tiddybit:
> …one of the problems you run into with making long casts with topwaters on braid is the line often catches on the front treble hook. I learned a trick that helps alleviate that; tie a 2′ mono leader between the braid and lure, and the problem is reduced substantially. I use 20-lb green mono
---
Quote of the Day
How many of us would have went to college or stayed in college if there was college fishing?
– Comment in a westernbass.com forum post. Too funny. Follow-up should be: How many of us would have gone to college if our parents bought us a new 19′ fiberglass bass tub when we were in high school, like it sounds like so many folks are doing now.
Ace was so shocked by that fact he wrote "Shock Me" then set his guitar on fire: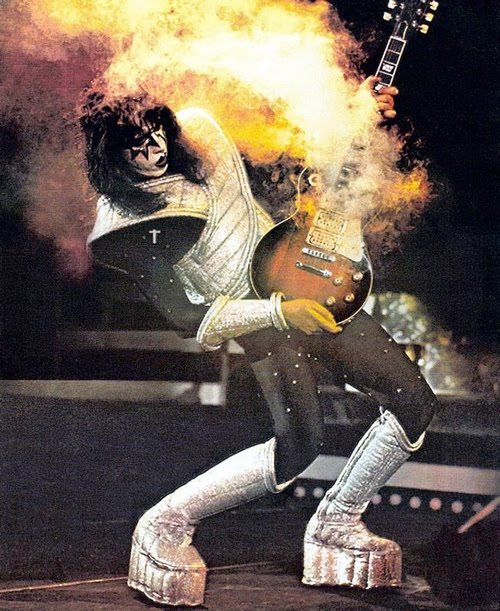 Trip was like: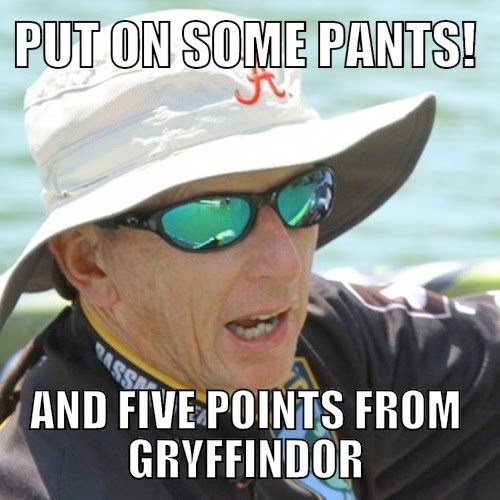 ---
Shot of the Day
Sweet shot of rod bendiness from Paul Mueller. Got him a mega-stump! lol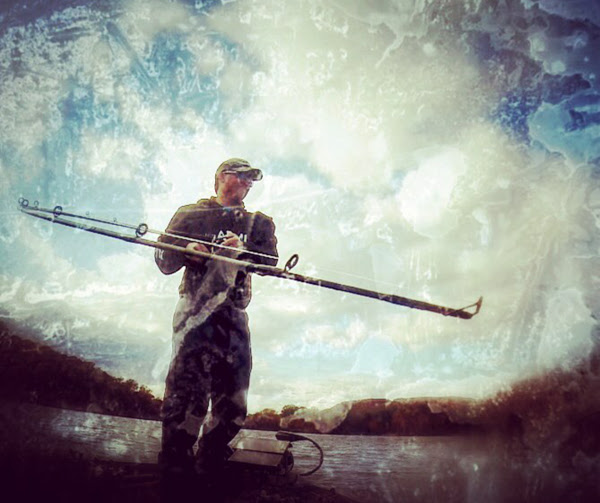 ---
Random
What this vid of a spider carrying a mouse up a fridge (in Australia) proves:
SPRO will come out with a spider swimbait.
Btw, one of the guys at a recent SPRO media deal showed me the BBZ-1 Rat. Got some vid, will post soon. Actually made me want to fish it…a little….
---
Git on these yo!
---