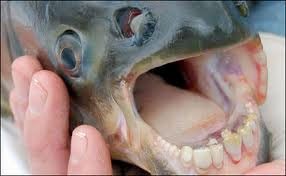 …not without Iron Man's undies, anyway. A guy recently caught a Pacu there, which is a South American fish related to the piranha that can get to be 36″ long. The one just caught was a 5-pounder, about 20 inches long.
They're sold in pet stores as "vegetarian piranhas," but that doesn't mean anything. You're counting on a fish with some serious teeth and a brain the size of a BB to know that your toe, finger or…something else isn't a juicy morsel of whatever.
Crazily enough, Wes Stewart of the South Carolina DNR was quoted as saying, "That's the biggest one we've seen out of Lake Wylie" – which means there's more of these things swimming around out there!
Hey, the next time your neighbor or nephew wants to get rid of an aquarium fish, take it off their hands, shoot it behind the garage and use it to fertilize your tamaters.
More
> No word on what the gentleman was using for bait, but we bet it wasn't veggies.