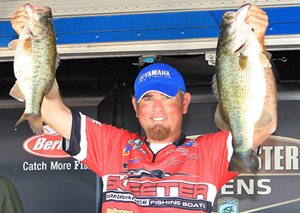 Bassmaster Classic Champion. Angler of the Year.
If I asked you what is the highest accolade an angler can achieve in professional bass fishing, you'd probably answer with one of the titles above. I know I would (and I'd answer AOY, minus the goofy post-season stuff, in case you're wondering). Those are the two career milestones that every angler strives to attain. That's why top-level pros risk it all to do what they do. Right? Wrong.
Check out this quote from Elite Series pro Clark Reehm featured in a recent "20 Questions" piece at Bassmaster.com:
Q: When did you realize you had made it in the bass fishing industry?

A: "At one point, I thought I made it when I qualified for the Elites. That was a milestone. I fished the Opens to make the Elites, and when that happened, I thought I had done something. Now that I'm there, my goal is to make it a sustainable career. I'm not after a Classic or Angler of the Year title, just to make a living fishing."
Huh? No, Clark. That's not how it works. You're supposed to tell us that it's been your dream to win a Classic since you were peeing your Pampers. You're supposed to say stuff like, "I've fought and clawed to make it to this level, and I'll consider my career a failure until I've got an AOY trophy on my mantle." C'mon, man!
Sarcasm aside, I actually find it interesting and refreshing to hear a pro be open and honest enough to make a statement like that. We've seen dozens, if not hundreds, of young B.A.S.S. pros flash in the proverbial pan only to fizzle and be smothered under a pile of perennially consistent sticks like KVD, Ike, Reese, Brauer, Klein and a handful of others. In the current Elite Series qualifying structure, surviving to fish another year is, indeed, a huge accomplishment.
I've always thought of Clark as an intelligent and level-headed guy, and this insight into his perspective on his budding career further solidifies that perception. Clark never said he didn't want to win a Classic or AOY title (Who doesn't?), he simply said attaining those titles aren't his sole motivation at this stage of the game. It's a crawl before you walk approach, and it's probably the reason why he's still fishing in the big leagues while some of his peers have been demoted to making a living back home guiding on local lakes.
Some might say Clark's mindset represents a "loser mentality". I can hear it now. "Do you think Kevin VanDam puts on his tournament jersey, looks in the mirror and says, 'Let's go fish well enough to qualify for next season'?" No, of course not. But you're going to have a hard time convincing me that KVD, Ike, Skeet or any other established pro never contemplated how to maintain a sustainable, consistent level of performance during the early years of his career. I believe Reehm's sensible and calculated approach is his biggest strength, and young anglers climbing the ranks with their eyes set on tour-pro status could learn a lot from him.
Keep it up, Clark. We're watching (and rooting for) you.