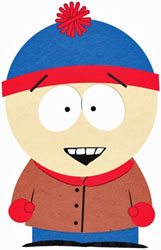 Stan, this guy at the Birmingham, AL News (who may or may not be the Stan pictured here), reported something the other day that got our attention, and I quote:
BASS founder Ray Scott is giving [Don] Logan, the retired Time Warner executive who is closing a deal to buy the fishing media conglomerate [BASS], something to think about. Scott has offered BASS 75 acres of land – with a 20-acre lake – for free. The property is about 10 miles south of Montgomery in Pintlala, Scott said. "I'm hoping that they'll bring it back to Alabama," Scott said.
So Ray is going to just hand over 75 acres, all the buildings and his lovingly managed trophy ponds?! Are you smokin' the ha-ha weed there Stan?
Ray obviously loves BASS and is trying to do all he can to get it moved back to its birthplace, but he didn't build BASS by being the dullest knife in the drawer. We checked with Ray's folks, and here's what came back:
"Ray offered BASS enough land for the home office (remember that 1 acre is a football field) and access to his lakes."
Stan, Stan, Stan.