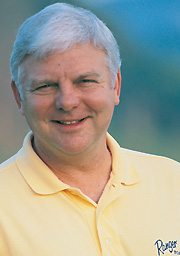 Read with interest today Ranger Boats' announcement that it will expand – to the tune of $13 mil – it's Flippin, AR plant and add 115 jobs. Big deal? Heck yeah it's a big deal.
In the last 11 months or so, Ranger has gotten out of Genmar (Irwin Jacobs' former company), and has not only survived the Genmar bankruptcy proceedings and what I'm sure was a nail-biting time in the boat biz, but has come through it with former archrival Triton now part of the fold. Think about that – wow!
That means former Ranger president, and now president of Fishing Holdings (which owns the bass boat companies), Randy Hopper is in charge of the whole shebang. That, ladies (including those who use 6-pound line…) and gents, is an accomplishment.
Happy for the guy. Super sharp and for sure knows the bass boat business, which he's been in all of his adult life.
In case anyone needs a reminder: Forrest L. Wood, Hopper's father in law, founded Ranger Boats in 1968. Another reminder: You can thank Ray Scott and Forrest for just about everything us bassers enjoy now.