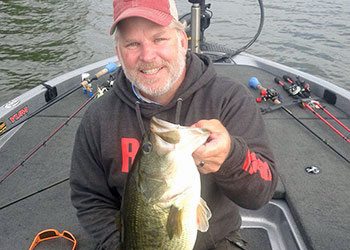 Pete Gluszek is a former tour pro who still fishes triple A-level events, but is better known as one of the premier educators in bass fishing as the "dean" of the great Bass University stuff. He also guides anglers in educational way – basically lessons out on the water.
Most of the time he guides on East Coast tidal water, like the super-tough tidal Delaware and areas like the upper Chesapeake Bay and the Potomac River. He's also competed in tidal tournaments in other parts of the country.
In other words he KNOWS tidal stuff like few other people do, and is willing to teach what he knows – which could fill a book, but for now I asked him to give a quick rundown on how he approaches tidal water, incorporating some of the conditions the Elites are supposed to face on Winyah Bay this week.
The bad side of big tidal water
"The thing that frustrates guys the most in big tidal systems, and frustrates me too, is if you pick the wrong area to practice in, you're done. Like the Louisiana Delta – it's 2 hours down to Venice, 2 hours to Bayou Black – if you pick the wrong area, you have no chance to win.
"The Potomac isn't that way, and even the Chesapeake because there's limits on that body of water where you can go. Everyone is generally fishing for the same population of fish, so it's more a contest of who can pattern fish, strategize and execute."
The positive side
"But tidal-river fish are current-driven fish – they love to bite. So when you find them, they're not hard to catch. They're not like suspended reservoir fish waiting for the current-generation schedule. These bass are predictable by the tide cycle and driven by current.
"They're aggressive feeders. The fishing can be absolutely amazing on these bodies of water."
If you've never fished tidal…
"…the first thing you should consider is seasonal patterns – they dictate where the fish position themselves.
"If fish are in or around the spawn, it'll be more of a backwater scenario – current-less. You're looking for places protected from that current that will hold depth at low tide. That's key because the beds have to stay wet. You're looking for places that have at least a foot of water at low tide."
Bait selection
"Typically during the spawn on a tidal system I'm blind-fishing beds. I'll be fishing light Carolina rigs, creature baits and weightless baits like Senkos. I'll fan-cast spawning areas.
"I've found that light Carolina rig is an excellent tool for covering water in that situation. You're still presenting the bait weightless, which can trigger strikes. I like a 1/4- or 3/8-oz weight, a 2′ leader and a small creature bait – a bigger bait can intimidate the fish."
His favorite bait is a Zoom Baby Brush Hog – junebug colors in stained or tannic water, and green pumpkin or watermelon red in clear water.
"If it's a prespawn scenario, you want big thumping baits: squarebills, Chatterbaits, spinnerbaits and big jigs. It's just classic power-fishing in a tidal system.
"If the fish are post-spawn, you can add to that topwaters like frogs and buzzbaits."
What if the system is flooded?
"Flooding means the conditions are unstable, and that's bad. Tidal fish are very susceptible to that even though the job of estuaries is to get the water out.
"It's been my experience that if it's high and muddying, it will shut them down, especially if last week it wasn't that way. If a muddy-water situation is normal, it won't phase them that much. But if last week it was clear and stable, that can really shut them down. It'll take several days of that before the fish will adjust and go about feeding again.
"If it's not crested yet, it's difficult. The challenge in that scenario will be to find the clearest possible water you can find – someplace protected from runoff. Grass beds might filter and protect some areas. It'll be a hunt for clear water.
"But if it has crested, what I've found on tidal river systems is that once they crest, they almost immediately start clearing. That's a huge thing to recognize. They can still can be muddy, but if the water's clearing – the silt is dropping out – the fish immediately go back to feeding or spawning, whatever they were doing [before the flooding]."