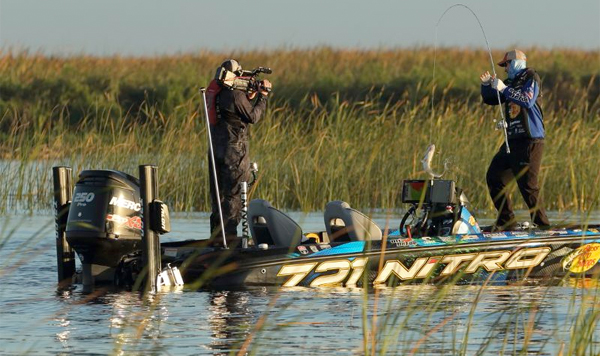 Ott fished three areas — one north, and two south that were within 5 miles of Uncle Joes Cut.
1. North area
> "It was a shad spawn deal I found the first morning of practice. I saw birds diving in the grass. I went over there and fish were blowing up all over the place. I got out the Terminator Frog and caught a couple 2.5s and 3s in the first 10 minutes. The fish were going nuts.
> "It had some dollar pads, some cane and some tules, but the dollar pads were what the shad were using to spawn on…." Water depth = 3′.
2. South areas
> "[#1] was kind of a bay with quite a few dollar pads in it. I was never there in the morning to see if shad were spawning there, but some bass were spawning there.
> "[#2] wasn't an outside line and it wasn't the hard bank line, it was in between. It had thick Kissimmee grass and patchy reeds, and I had 5-6 bites through there, flipping. I caught 3-4 of them, but a couple of the ones I didn't catch felt really big. On that stretch the first [competition] day I caught two big ones."
Baits
1. North area
> 1 fish (the 8-06) was on a Terminator Popping Frog, but the rest are on the not-yet-released Terminator Walking Frog Jr (smoke silver shad).
> He also swam (a little) a 3/8-oz Terminator Pro Series Jig (white) with a Bass Pro Shops Swim-N-Elite Chunk (pearl white).
> He walked the bait "kind of fast. It was definitely a reaction bite with that shad spawn going on. For every fish you'd catch 10 would blow up on it. The first couple days I was jerking like crazy — I'm terrible at topwater fishing."
> Froggy gear: 7′ 2″ mh BPS Titanium 8 Rod 7, Johnny Morris CarbonLite reel (7.5:1), 30-lb BPS XPS braid.
> Jig: Same rod model but 7′ 6″ mh, same reel, 50-lb BPS XPS braid.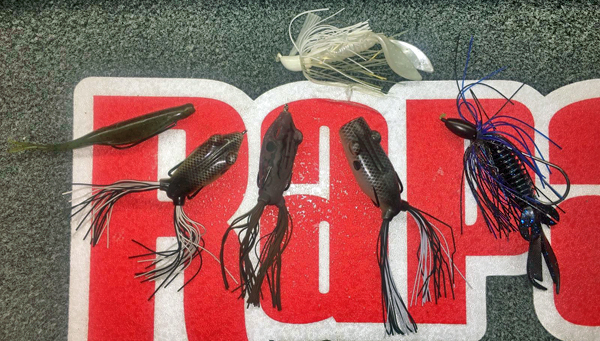 2. South areas
> Bay with dollar pads: Frog Jr (cocoa camo) or dead-sticked weightless BPS Shadee Shad (Fluke-style, gp). "Where the dollar pads were thick I fished the frog, and where they were thin the Shadee Shad."
> Shadee Shad gear: same rod as frog, BPS JM Platinum Reel (8.3:1), 14-lb XPS fluoro, 3/0 VMC worm hook.
> Other area: 4.25″ Bass Pro Shops River Bug (Beaver-style bait, black blue flake), punch skirt (black/blue), 1/2- and 3/4-oz Swagger tungsten weights, 5/0 VMC Heavy Duty Flippin Hook.
> Flip gear: 7′ 10″ heavy BPS JM Platinum Rod, JM Platinum Reel (8.3:1), 65-lb BPS braid.
> Flip area had "reeds and thick Kissimmee grass, matted up. I'd pitch in there and probably 75% of bites they had it when I first lifted up. Others came after 1-2 bounces."
Other important stuff
> "Anytime you have a shallow-water tournament, Talons [pole anchors] are always a big deal when you're trying to sit still and pick areas apart.
> "The HydroWave is something I turn on every morning and run it all day. People might get tired of hearing about it, but I have a lot of confidence when I turn it on.
> "My Atlas Jack Plate…with the water level where it was, in a lot of places if you didn't have a hydraulic plate you had to idle another 1/4-mile before you could get up on plane."