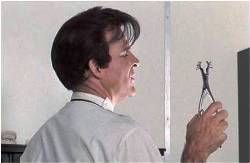 Watching anglers remove hooks from the jaw of a largemouth bass can be pretty enlightening. Seems everybody has their favorite technique. Some reach for the long-nose pliers, while others do that fancy "pop the hook with the palm of your hand" thing. You've seen it done – just don't know who in the heck invented it – brilliant though. We're all kind of like pseudo-dentists, minus the 10 years of advanced medical training necessary to perform our extraction magic on other people.
Well, a very cool study was recently published concerning largemouth bass hook removal technique and effects. "Effects of Four Hook Removal Techniques on Feeding, Growth, and Survival of Deeply Hooked Largemouth Bass" by DeBoom, et al. ("and others") took a scientific look at several common hook removal methods. What makes the study so neat is the intentional inclusion of the "through the gills" removal technique made popular by a Ralph Manns piece back in 2002 in In-Fisherman magazine, and revisited by Doug Stange some years later. The study authors even went so far as to use the exact same hook style in their testing as was done in the original publication piece. A browsing of bass fishing forums finds that this is a pretty popular method for deeply hooked fish.
The study involved a control set of fish that were hooked in the oral cavity (that's science geek talk for "the mouth"), but not deep, as well as the deeply hooked fish that were given 4 treatment types:
> barbless hook – through the mouth with hemostats
> regular hook – through the mouth with hemostats
> through the gill method- the IF technique with hemostats
> hook in method -Â  left the hook in the mouth with 1″ or less of cut line attached
After all the testing was complete, fish were first held for 6 days to assess short term feeding effects and 24 hour mortality, and then placed into ponds and checked in both the summer and the fall for long term feeding and growth. Results included:
Deep hooked fish took the longest to remove, while those hooked in the mouth or with the line cut were shortest. Barbless hook removal fell in-between. However, there appeared to be no negative effects due to length of air exposure, which ranged from 6-60 seconds.
There was no statistical difference in either short term or long term mortality among the different treatments.
Leaving hooks embedded (hook in) or removing them via the gill technique will reduce the short-term negative effects of deep hooking, but there were no statistical differences over the long term.
Later analysis revealed that all of the fish that had the line cut short and the hook left in were able to shed their hooks by experiments end.
No method for removal of deep hooks in bass was found to be advantageous in terms of growth or survival.
The authors concluded, "Overall, our results suggest that deeply hooked largemouth bass caught on hooks comparable to those used in our study have a similar probability of survival regardless of method of hook removal and can have rates of catch-and-release survival similar to that of fish hooked in the oral cavity."
So keep up the good dentistry on our little green friends Bass Paraders, whichever particular method of hook removal you choose to use.