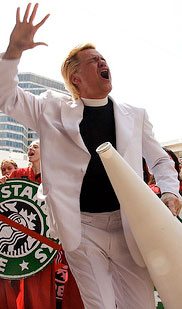 If you're looking for the closest thing to a B.A.S.S. State of the Union address, Jerry McKinnis laid one out earlier today in an email to all Bassmaster Elite Series pros. In the email, Jerry talks about B.A.S.S. as a business, discusses the possibility of expanding the Elite Series schedule and asks the Elite anglers to share their wants, needs and ideas for the organization and the sport as a whole.
Here are a few snippets from the letter that caught our eye, with thoughts and comments from a bumbling knucklehead whose opinion doesn't matter (yours truly):
"…B.A.S.S. needs to become a healthy business.  It's not at this point.  Hasn't been for years.  But don't panic – it will be. Whether you're a 60-something Rick Clunn or a 20-something Jonathan VanDam, Bassmaster is still the foundation for your career and I know it, and will not let you down."
Serious business, eh? I don't know if the former B.A.S.S. regime ever had this kind of candid exchange (electronic or otherwise) with the pros, but it's obvious that Jerry places a lot of value on transparency and forthright communication with the anglers. In a sense, by controlling B.A.S.S. he also controls their destinies. I have to think that, as a pro, it's comforting just to hear him acknowledge this fact with the importance it deserves.
What exactly does it mean to get B.A.S.S. "healthy" as a business again? We may already have some clues as to what kind of changes are taking place on the business side of the sport. As I was putting this piece together, Elite Series pro Jason Quinn posted this on his Facebook page:
"The changes at BASS have taken place, now we have people in the tournament dept. that can't speak English. Great!!"
Has B.A.S.S. outsourced its call center? We're not sure, but it sure sounds like it. Obviously Mr. Quinn isn't too happy with whomever he spoke to when trying to register for events, but there's no denying that it's a heck of a lot cheaper to pay a company overseas to handle these kind of calls than it is to pay John Doe to do it here in the U.S.
McKinnis again:
"Sometime between now and spring I want to start working on our schedule for 2012. I really want more events in the Elite Series, but probably can't make that happen until 2013 if things go well. For now I want to stretch the Elite season out, probably February to October. Â Then schedule Opens on dates where it's reasonable to think that Elite anglers can take advantage of those Opens as well."
Jerry has said from the beginning that one of his primary goals is to make it easier for pros to earn a living at the tour level. The logic is simple: If pros can't afford to fish, B.A.S.S. and the Elite Series will cease to exist. By adding more Elite-level events and spreading out the schedule in such a way that it allows the pros to take advantage of Open events (and other tours), he's moving in the right direction, IMO.
And now for my favorite part of the letter:
"With that said, how about your ideas for sites to fish? Â Think this out now. Â Make sure your suggestions aren't solely about having big fish available. Where haven't we been for awhile? Â Where have we never been? Â Look at the big picture,then lay it on me."
Wait, you mean it doesn't make sense to keep the Tennessee River Tour…oops, I mean the Bassmaster Elite Series confined largely to the Southeast?
FINALLY somebody gets it (I hope). I'm not saying we should send the Elites to Alaska, but c'mon, let's put these guys on some new water. Seeing guys catch big fish is cool, but the "new" wore off that a long time ago. Every derby doesn't have to be a hogfest. I get just as stoked watching a guy lift a 4-pounder out of a sack in a dinkfest as I do watching a guy weigh an 8-plus at Guntersville.
And if we're going to dream big, let's REALLY dream big. If the crew can make it to Erie, they can make it to Canada. Let's expand the border on this thing. Can you say Japan? I know it's really stinkin' expensive to send a bunch of anglers and crew across the world to catch bass, but bass fishing isn't just a sport for bubbas (like me) in Texas and Alabama anymore.
Will we see an event held outside the U.S. in the next few years? Probably not. And we probably shouldn't see something like that happen until B.A.S.S. is on better footing financially, but I really hope this kind of thing is on the table. The NFL has a model that might be worth following here. I'd love to see B.A.S.S. and its anglers expand their geographical horizons, even if it's just for an exhibition event of some sort.
"I think we are at a very special time in the history of professional bass fishing. Think about that.  Are the planets lined up just right, or am I just full of prunes? It could very well be the latter, but if the 'planets are in line' then I've got to make the right moves, or no moves at all, every single day, and we are absolutely all in this together.  Do you realize what 100 of us can do if we're really focused pulling on the same rope?"
I'm going to leave the prunes part alone, but aside from that, does anybody else think Jerry missed his calling as an evangelical preacher?
I'm not an Elite Series pro, but I'm ready to throw my money in the basket and get this show on the road. Jerry comes off as optimistic, but not in a way that makes me think he's wearing rose-colored glasses or huffing happy gas. He sounds like a man who's thrilled and humbled to be in a position where he can elicit change and growth in an institution he's devoted most of his life to.