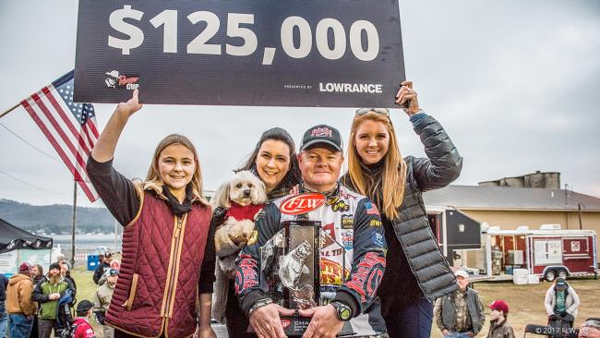 Mark Rose squeezed out a win at last weekend's Guntersville FLW by less than a pound over Bryan Thrift. He did it by camping out on Browns Creek because of…seagulls:
> "When first came into town, the seagulls were in that creek by the thousands, all along the causeway…gave me a good feeling that a lot of bait was in there and a good migration of fish….
> "When I went to fish that causeway the first day, I could hardly get the crankabit through there without hooking some big old gizzards." [That's the deal on the TN River.]
Said he had "about 7 sweet spots in that creek. Three of them were rocky and the rest were grass — inside grasslines or guts. I'd hit them around 3 times per day. Slow, methodical, always using the causeway as a resting time to let everything settle down."
Top 3 baits/patterns
1. No-longer-available Strike King Custom Shop Flat Shad (chartreuse/brown back customized), Lew's signature Ledge Small Crankbait Rod (7′ 6″ medium), Lew's Magnesium Speed Spool reel (6.8), 12-lb Seaguar Tatsu. Fished it around rocks and stained inside grasslines, 1.5-4′.
> "Those old flat-sides are really good cold-water baits…tight wobble. I have about a dozen of them and only break them out when it's cold."
2. 1/2-oz Strike King Red Eye Shad Tungsten 2 Tap (not sure if it was royal red or Rayburn red craw), Lew's Ledge Big Crankbait Rod (7′ 11″, "a light medium-heavy," same reel, 15-lb Tatsu.
> "I fished that in a couple drains — guts going up into spawning flats. I was sitting up deeper and throwing shallow…reeling it real slow, ticking the grass in 4-5′."
3. 3/8-oz vibrating jig (gp) with several trailers (gp) but the most-used one was a Strike King Rage Bug rigged sideways, Lew's Mag Bass Rod (7′ mh), same reel, 20-lb Tatsu.
> "I'd mostly pick it up and hit grass flats…ticking the tops and and pulling it through [in 2-4′].
> "I was hunting those few fish that pull up early every late winter, the early ones that move shallow. There's always a few big ones that do that, especially when the sun comes out."
Rest of the baits
Mark used other baits as well. Here's the whole arsenal including the above 3 rigs:

The rest are:
> Shad-color Strike King Custom Shop Flat Shad — he only made one cast with it but it was the winning fish.
> Causeway baits — custom-painted Strike King Series 3, and a different old flatside with a longer bill (chartreuse/brown).
> 3/8-oz Strike King Baby Structure Jig (gp) with KVD Chunk Jr (gp) which he fished around wood.
> 3/8-oz Strike King Football Jig with a hand-tied flat living-rubber skirt (brown) with the same Chunk Jr or a Strike King Baby Rodent (gp) — on chunk rock banks. That was with casting gear. He used spinning gear with the same jig except 1/4-oz with the Jr Chunk or a Strike King Bitsy Bug Crawfish. On bluffs by the dam in clear water.
> Unnamed 1/4-oz swim-jig (gp) with a 4″ Swim'n Caffeine Shad (gp).
More
> He colored the tips of all plastics with an orange Spike It marker. "I wanted those baits imitating crawfish even though the water was in the high 40s. I wanted them to be the first crawfish the fish got to see this spring."
> Mark is an absolute hammer on TN River lakes. Why: "I just like 'em. I grew up on the Mississippi River, and a lot of the habitat is similar. I grew up fishing current and understanding current…."
> But he also often fishes deep: "Usually when I'm on the TN River spend a lot of time deep trying to find a little needle in a haystack. But I just had a shallow instinct on this one…. Sometimes you need to know when to turn your depthfinders off and just go fishing."
> "The Garmin LakeVu HD maps have that lake nailed so I was able to look at all these little nuances…. I was able to not have to run to [many] areas to find fish. It cut down on a lot of idling…."