Mark Rose is the first-ever FLWer to win back to back events. Two weekends back it was the Guntersville FLW, this weekend it was the Travis, TX FLW. Here's a shot of his actual baits: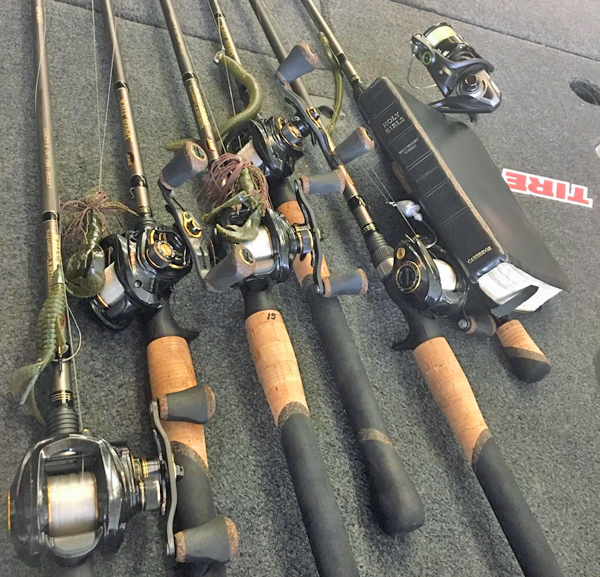 Combo of info from FLW and Bassin'Fan:
> Main pattern: Deep stair-step ledges off points, as deep as 50′!! Used 3/4- (less than 30′) and 1-oz Strike King Tour Grade Football Jigs (gp), Rage Craw (gp), 15-lb Seaguar Tatsu fluoro, 7′ 2″ heavy Lew's Custom Pro Speed Stick Ledge Series Rod (jig/worm casting), Team Lew's Magnesium Speed Spool casting reel (7.5:1).
> Suspended bass: Unnamed 6″ paddletail swimbait (shad) on a 1-oz Strike King Squadron Head, 17-lb Seaguar InvizX fluoro, 7'6" heavy Lew's Custom Pro Speed Stick Ledge Series Swimbait Rod, same reel.
> Pitching docks in afternoons: Strike King Rage Bug (blue craw), 4/0 Mustad Wide Gap KVD Grip Pin worm hook, 5/16-oz Strike King Tour Grade Tungsten weight, 20-lb, Seaguar InvizX, same rod and reel as swimbait.
Word is the new Lew's Ledge Series rods Mark designed and has been crushing it with will be out in May.