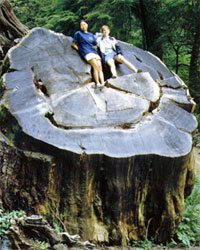 Ever notice that KVD likes stumps? Everyone does, but he seems to talk about them a lot. Here are a few examples culled from various interwebz articles:
1. He Likes Stumps More Than Rocks…
…and his reasoning is simple:
Stumps are always better than rocks because their roots provide cover for bass and baitfish.
Tough to argue with that – or with KVD about anything, except drinking diet soda….
2. When It's Cold, Stumps Are Warm
Talking about the the 2009 Elite on Lake Dardanelle, Ark., March 26-29 during tough conditions, he said:
…Because the temperature was cold, the bass had moved to the stumps for warmth.
3. Find Stumps With Your Bait, Mark 'Em Eyes Only
KVD on his 2011 Classic patten: His technique was to motor within casting range of a group of stumps, and put his PowerPole down. He'd then fan cast to the stumps.
On my first big fish [on day 2], I made multiple casts to same stump before [a fish] hit," VanDam said. "I thought, 'Mmm, hmmm.' I'd mark a stump with my eyes and just make multiple casts to it.
I was ripping the grass off the bait constantly. I was using the bait to feel for stumps and feel for grass. I culled several 20-pound bags to catch what I caught (Sunday).
On the final day, first thing, I made four casts to the same stump and boom, caught a 6-pounder. I would go to the areas I knew had clusters of stumps and drop my Power-Pole.
He was using a KVD 1.5 square-billed chartreuse/black back crankbait: "When bass get [in spawn mode], they don't like bluegill around them, so you really want to fish chartreuse/black."