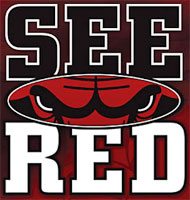 At the St. Johns Elite earlier this spring, Kevin VanDam fished a Strike King Ocho (Senko-like) – or, to be more specific, a 7″ Ocho in watermelon/red/black. Here's what he said about color:
I've learned that anytime I'm fishing clear water, a lure with some red or red flake in it seems to always produce the most bass. That's the reason I always throw watermelon-red or the double-header-red color in a situation like we had in Florida on the St. Johns River. Those two colors are very similar, but the bass seem to react well to them under those weather [high sky] and water [clear] conditions.
Huh. I'm not the best basser in the world (I know, I know…yet it's true), but my favorite clear-water colors are grape and black, sometimes with a chartreuse tail. Has even worked for me in Florida when nothing else will…but then again, I'm no KVD.
We all know that red in spring is good, but red all year round in clear water? Anyone else with KVD on that?
More
> Here was the rest of his sight- and bed/fishing rig: 14-pound-test Bass Pro Shops XPS Fluorocarbon line ("With that 14-pound-test line, the Ocho fell somewhat faster than if I used heavier line. I wanted it to reach the bottom quickly, so I could cover a lot of water quickly."); 5/0 hook.
> "I'd cast the bait in areas where I knew the bass were bedding, let it fall to the bottom, jerk it up off the bottom and allow it to fall back again. If I didn't get a strike, I'd reel in the Ocho and make another cast. This tactic proved very productive when I was in a spawning area and couldn't spot a bass."