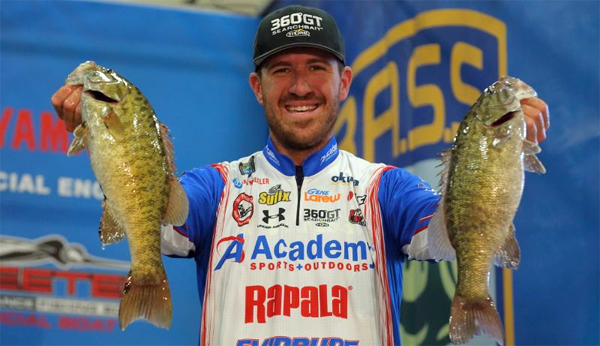 Jacob Wheeler won the Cherokee Bassmaster Elite with three patterns and one main bait. Here's the deets:
Main pattern
> "The biggest thing this week was fishing holes, or pond dams/depressions. The holes would be about 20′ around the side, and if rock was around them, the smallmouths would live there. If it had a rock vein [going into the middle], the smallies would live on those veins.
> "The holes harbored the bait. Bait was all over the lake, but schools of smallmouths were sitting around those holes/depressions — in the 20-30′ range at the bottom of the hole."
Secondary pattern
> "Points and humps — it was obvious stuff, but you could not use 2D sonar because with 2D you couldn't see the bass inside the rocks. A lot of those places only had 3-4 smallmouth on them.
> "You'd see them, drop on them, bring it above them, and they'd slide up out of those rocks and eat it."
Big fish pattern
> "This is what I call 'sneakier stuff' — big giant flats [in 22-29′] with tiny isolated rockpiles on them. It was sneakier because they might only be good for 1-2 fish and they were more time-consuming to find.
> "It might be a boulder in the middle of a rocky flat, or hard-bottom spot — it was always about that little bit of hard bottom.
> "I had 3-4 places that no one else was hitting. That was really key in separating me.
Main bait
> 3/8-oz VMC Neon Mooneye Jig (black and white) with a 3″ translucent pearl white Fluke-style bait.


> "The #1 thing when you're fishing those smallmouths with that technique [dropping on them] is getting the bait down to them quickly. That 3/8-oz jig gets down there way faster than a quarter — especially with the wind blowing — and it's so much easier to get the fish to react…."
> "Why that jighead is so good is it has a pretty large barb even though it's thin wire. So when you hook them, they're on there good. That's really important with smallmouth, when they're jumping and everything. Some of those fish I could barely get off with pliers.
> "The biggest thing with the setup was the 8-lb Sufix NanoBraid. It's super-thin — it would fly off the reel 10x better than any other braid or fluorocarbon. So it got off the reel quicker and got down there faster, so I got a better drop on those fish and got more bites."
> His leader was 8′ of 6-lb Sufix Invisiline Castable Fluorocarbon. "I normally don't have a long leader — I don't like it to go inside the spool. But that 6-lb is like dental floss, so I like a longer leader when I go lighter. It allows more shock-absorption. You might have to retie the leader knot every once in a while, but my opinion is that's the way to go. You don't break nearly as many fish off.
> Rod was a prototype 7′ medium-light Okuma Helios: "It has a super-fast tip and really good backbone — it's not real wimpy." He had several rods with a few different reels, including a 30-size Okuma Inspira (5:1 ratio) and a Shimano.
Secondary baits
> "The first day when the fish weren't as pressured and they were in a little larger groups [3-4 fish], when they wouldn't bite [his main bait] I used a #5 or #7 Rapala Jigging Rap [Helsinki shad]. I fished it on another medium-light Okuma Helios prototype [6′ 10″].
> "With the #7, which weighs 5/8-oz, I used a 7′ baitcaster. I put a #5 VMC treble on there and fished it on 14-lb Sufix fluoro."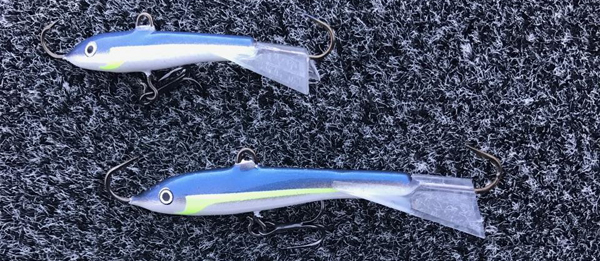 > "I also weighed a couple fish with a Storm 360 GT Swimbait [herring]. I put it on the same Mooneye jig and I was just reeling it through the schools. I fished it on a 7′ medium-action Helios [casting rod], an Okuma Helios TCS reel [6.6:1] and 10-lb Sufix fluorocarbon.
> "You had to fish it real slow, let it fall back to the bottom…. It was the only thing I cast.  Everything else was vertical."

More
> The jighead/swimbait combo is the deal in the winter there. "That's the #1 deal on South Holston, Cherokee, Norris…."
> His fish were in 18-37′ but the best depth for him was 25-32′. He said most guys weren't looking as shallow as 18′.
> When he says "rock," he does NOT mean boulders as it many times does for smallmouths. "That's always something you look for up north." This tourney it seemed to be rock piles.
> He said the smallies wanted to be near a depth change, which could've been 1′ or 18′. "One place where I caught a 4 and couple 3.5s was just a little hard bottom that came from 40′ to about 37′ — only a few feet, it slowly sloped up with some isolated rock spots that came up about another half a foot. Those were the places right there. Not a lot of fish, but a place I could go to get one or two of the right bites.
> "They wanted to be related to an adjacent to gravely bottom — flat or chunk rock. They wanted to be close to some depth change, something a little bit irregular."
> Why he didn't fish a dropshot: "Those smallmouths were feeding up, so if you dropped it down there in front of them, a lot of them wouldn't bite. You had to keep that bait above their heads. If you could drop it down to about 2′ above them, they'd come up off the bottom and eat it."
More 2
> "I never in my right mind ever thought I'd win a smallmouth event. I learned how to fish smallmouth pretty well messing around on Eire and St. Clair…. I wasn't going to fish the [last Northern Open last year on] Champlain…but I wanted to learn to fish for smallmouths. So the whole event I spent fishing smallmouths out deep, getting used to what they get on, and I applied a lot of the stuff I learned on Cherokee."
> Half his waypoints disappeared when he changed out electronics units, and all the stuff he lost were upper-lake rockpiles he wanted to pick fish off from. He remembered some of it, but not all of it — but got to hit them later in the derby.
> Re: fishing out of Dustin Connell's boat: "I read the rules 4 times. You're not going to retain every piece of information, but that's something that stands out pretty dang good — if you're broken down you can fish from another competitor's boat. I called Trip, and he said, 'Well yeah you can.'"
> Usually when someone wins everything goes right. Not this time: "I didn't think I was going to win at any point."